Valentine's Dinner Idea: Recipes From Dead Gay Celebrities
Frank DeCaro, the flamboyant former movie critic from The Daily Show With Jon Stewart and host of The Frank DeCaro Show on Sirius XM, has the solution to any cooking dilemna: party menus that pay homage to the departed stars of Hollywood. In this excerpt from his latest, The Dead Celebrity Cookbook: A Resurrection of Recipes From More than 145 Stars of Stage and Screen, DeCaro lets you squeeze Liberace's sticky buns, wrap your lips around Rock Hudson's cannoli, or get sufficiently stuffed by Merv Griffin. (See the book for hundreds more from celebs including Michael Jackson, Anthony Perkins, Bea Arthur, and one Advocate editor's fave: Agnes Moorehead's Lobster Mousse.)
Merv Griffin 1925-2007
Between his start as a big band singer and becoming a stinking-rich businessman, Merv Griffin created the two greatest game shows ever, Jeopardy! and Wheel of Fortune, and he hosted a must-watch TV talk show. Gabbing with all manner of celebrities, the "eternally jovial Irishman," as the New York Times called him in his obituary, created a cocktail party atmosphere on his show and thus managed to get the biggest stars to let it all hang out. Although rumor has it he was gay, Griffin was often seen on the arm of Eva Gabor, whose goulash recipe appears in Chapter 13. When asked at age 80 about his sexuality, he told interviewers to "get a life." An astute businessman who bought casinos and hotels — and relished his rivalry with Donald Trump — Griffin made what was possibly his smartest move when he wrote the theme song to Jeopardy! and then maintained the rights to it, even after selling the show. He bragged that his royalties from the song earned him upwards of $80 million. That's a lot of stuffed squash.

Merv Griffin's Stuffed Squash
In a large bowl, toss together stuffing, lemon juice with zest, pineapple with water, dried apricots, onions, nuts, coconut, and butter. Stuff squash with mixture. Bake squash halves for one hour in a preheated 325° oven. Garnish with the 2 tablespoons of toasted coconut.

12 ounces cornbread stuffing mix
Juice and zest of 1 lemon
1 can (20 ounces) pineapple chunks in water
1½ cups dried apricots, slivered
1 cup chopped onion
1 cup walnuts, pecans, or macadamia nuts, coarsely chopped
½ cup flaked coconut (reserve 2 tablespoons for toasting)
½ cup melted butter
4 small acorn, golden nugget, or sweet dumpling squash, halved and seeded

Post Mortem
This recipe makes way more stuffing than you need to fill eight squash halves, but who ever complained about having leftover stuffing? With or without the squash, the fruity flavors of the stuffing make a great accompaniment to pork chops, ham, or even chicken. Yum!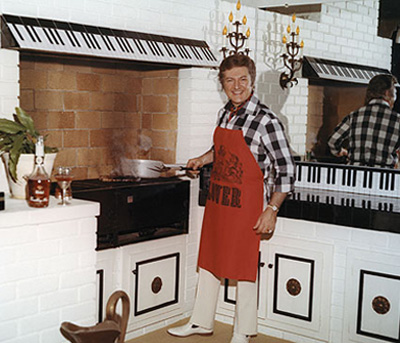 Liberace 1919–1987
Renowned as Mr. Showmanship, Liberace was a rhinestone's best friend, a highly paid (and highly worth it) Las Vegas entertainer, and television personality whose luxurious lifestyle and extravagant wardrobe defined showbiz excess. "Too much of a good thing can be wonderful," the Paderewski-worshipping pianist liked to say, quoting his friend Mae West. When critics were cruel — usually lambasting his flamboyance, not his talent — Liberace coined the phrase, "I cried all the way to the bank." In his four books and in the media, Liberace was very much in control of his image, being coy about his effeminacy so that the women who adored him — and they were legion — wouldn't be disappointed that he was a confirmed bachelor, ahem. Lee (his nickname to friends, his full real name was Wladziu Valentino Liberace) broke box office records, gave command performances for Queen Elizabeth, had an audience with Pope Pius XII, played twin villains on Batman in the 1960s, and delighted millions during his long career. And while the Las Vegas museum dedicated to his legacy, once described by the New York Times as "a tourist attraction on par with Hoover Dam," closed in 2010, no less than Lady Gaga acknowledges his undying influence, dropping his name into her hit "Dance in the Dark." The following recipe, one of many Liberace left behind, is my favorite in this book, and not just because of the name.

Liberace's Sticky Buns
Preheat oven to 325°. Spray two muffin pans with non-stick baking spray. Combine raisins and rum in a small bowl and warm in microwave on high for 45 seconds. Set aside. In a saucepan, melt butter and then stir in spices and brown sugar. Cook, stirring frequently, until it becomes a bubbling syrup. Put a teaspoon of syrup and a few whole pecans in each muffin cup. Unroll one package of crescent rolls on a piece of parchment paper. Pinch seams together to form one flat piece. Drizzle a quarter of the syrup over the dough. Sprinkle a third of the raisins and a third of the chopped pecans on it. Roll it jelly roll style. Cut into 1-inch thick pieces. Place one slice of dough, cut side up, in each muffin tin. Repeat with each package of crescent rolls. Bake 13–15 minutes or until golden brown. Remove from oven and immediately flip the buns onto a cookie sheet covered with parchment paper. Replace any nuts that may have stuck to the pan and serve warm.

1 cup white raisins
1⁄4 cup light rum
11⁄2 cups brown sugar
2 sticks unsalted butter
1⁄2 teaspoon cinnamon
1⁄4 teaspoon nutmeg
1⁄4 teaspoon allspice
1⁄4 teaspoon cloves
1⁄4 teaspoon ginger
3 packages refrigerated unbaked crescent rolls
1 cup chopped pecans
1 cup whole pecans
Non-stick baking spray with flour for greasing pan

Makes 2 dozen.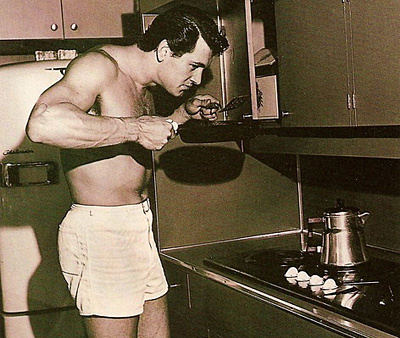 Rock Hudson 1925-1985
If Rock Hudson had been any more handsome, you'd go blind looking at him. He was six-foot-five and so gorgeous that even Doris Day, the original 40-year-old virgin, wanted him . . . bad. He starred with Day in such delicious romantic comedies as Pillow Talk, Lover Come Back, and Send Me No Flowers. He did his best work, though, for director Douglas Sirk in the 1950s, appearing in Magnificent Obsession, Written on the Wind, All That Heaven Allows, Battle Hymn, and The Tarnished Angels. Hudson also made a splash when he starred with Elizabeth Taylor and James Dean in the oil epic Giant. For much of the 1970s, the aging dreamboat was known as half of the mystery series McMillan & Wife on television. After its long run ended, Hudson joined the cast of Dynasty, but by then AIDS was taking its toll on his health. A physically ravaged Hudson became the public face of that dreaded disease at a time when almost nothing was known about it. His most famous leading ladies — Day and Taylor — rallied to his side. Because of Hudson, the original gay BFF, no one could say they didn't know someone with AIDS, and the fight against the pandemic began.

Rock Hudson's Cannoli
Using an electric mixer, beat the ricotta in a large bowl for 1 minute. Add confectioner's sugar and beat until light and creamy, about 5 minutes. Add cinnamon, chopped citron, and chocolate chips and mix until well blended. Refrigerate until ready to use. To make cannoli shells, sift flour, sugar, and cinnamon together into a large bowl. Make a well and pour wine into it and mix until incorporated. On a floured cutting board, knead dough until smooth and stiff, about 15 minutes. If dough is too moist or sticky, add some flour. If it's too dry, add more wine. Cover dough and let it rest two hours in a cool place. Then roll paper-thin on a lightly floured board. Cut into 5-inch circles. Wrap each circle around a cannoli tube loosely, overlapping ¼ inch of dough. Seal dough by brushing with slightly beaten egg yolk. With the tube in place, deep fry 2 cannoli at a time in hot oil for 1 minute until light brown. Lift gently with slotted spoon or tongs, drain on paper towel and cool. Remove tubes gently and fill.

Filling:
3 pounds ricotta
1¾ cups confectioner's sugar
½ teaspoon cinnamon
2 tablespoons chopped citron
¼ cup semi-sweet
chocolate chips
Pastry Shells:
4 cups flour
1 tablespoon sugar
¼ teaspoon cinnamon
¾ cup Italian red wine
For more recipes or to get the book, visit DeadCelebrityCookbook.com.