The Telepathy and Tap Dancing of Matmos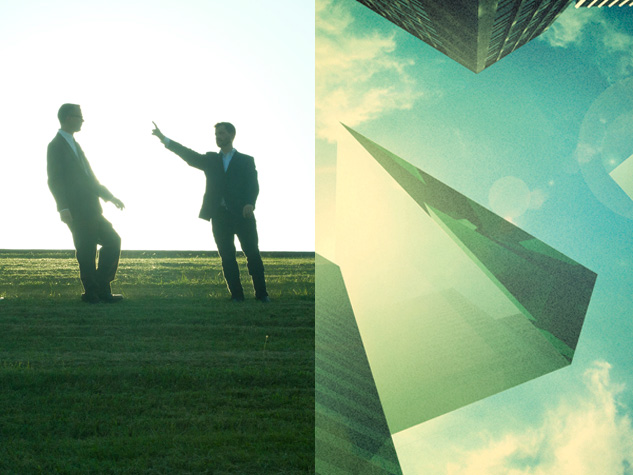 If you listen closely enough to the song "Aetheric Vehicle" on electronic duo Matmos' latest album, The Marriage of True Minds, you might be able to make out the sound of a kinky accessory jangling in the background. Matmos' Drew Daniel acquired a pair of metal shackles from a BDSM store on eBay to re-create a sound heard by one of the people who participated in a telepathy experiment to help drive the concept record.

That's right — telepathy, or extrasensory perception, was the overarching theme for Baltimore-based duo Matmos' newest album, which drops in February from the Thrill Jockey record label. After more than two dozen records and two decades together, Daniel and his partner in music and life, Martin Schmidt, went beyond their most far-fetched creations to get downright esoteric with Marriage.

For the past four years, Matmos has been conducting parapsychological experiments based off the classic ganzfeld experiments, which use sensory deprivation and telepathic messaging to search for evidence of extrasensory perception, or ESP. In a twist on the traditional method, Daniel tried to transmit the concept for the new album directly into the minds of his subjects while they were blindfolded and had white noise piped into their ears via headphones. Subjects were then asked to tell whatever came into their minds during the experiment, and their accounts were videotaped and transcribed to become the driving narrative force of the record. The album's liner notes include a full transcript from the psychic session that produced each song.

But how does one go about translating abstract images, sounds, and guttural hums into a full-length record?

"It's hard," says Daniel. "You have to use intuition, and you have to go with what is actually pleasurable too. Sometimes there was a very poetic or a very funny or a very surreal psychic transcript, but it just didn't want to be a song."

The men behind Matmos first ventured into telepathy-inspired tunes on their 2012 release The Ganzfeld EP, which included two songs that also appear on Marriage. But the new album is a fuller exploration of the concept, says Daniel.

"With the album, you've got nine different ways to respond to the idea that there's a greater range of approaches to how to make a song out of a transcript," he says. "There are some songs which are very much a portrait of that person's experience, and some are very literal."
Matmos - Very Large Green Triangles from Thrill Jockey Records on Vimeo.
A theme that appeared in numerous psychic sessions produced the album's catchiest song, "Very Large Green Triangles." Fellow Baltimore rocker Ed Schrader's booming voice repeats the song's title against gothic-pop–inspired chamber music, creating an eerie, post-industrial tone harkening back to mainstream popular music so well that the tune lingers between the listener's ears.

"We like pop music," says Daniel. "We like to apply conceptual ways of working through the creation of pop music, so for us, there's the challenge of making sure that there's an honest section."

Matmos' newest album is profoundly listenable — at once complex and melodic, soothing and jarring, full of found sounds, synthesizers, and, for the first time in the band's 20-year-history, a significant helping of human voices. Marriage features the vocal stylings of electronic and indie-rock heavy hitters such as Dan Deacon, Carly Ptak of Nautical Almanac, and even Half Japanese's Jason Willett, who strummed a rubber band that becomes the resonant bass line for the album's opening track, "You."

Schmidt and Daniel lend their own voices to the record's closing act, a heavy metal–influenced cover of the Buzzcocks' "E.S.P." In a first for the musical duo, who have been a couple for 20 years, they harmonize to recite the record's closing lines, imploring listeners to open their minds to the album's telepathic possibilities. "If you're picking up on me, then you'll know just what to do," sings Matmos. "So…think." They have never sung together on an album before.

"I didn't foresee a lot of singing, and honestly I'm very suspicious of electronic records where there are celebrity guest vocalists…. I think that's a kind of contrived thing to do," Daniel says. "But it just happened to be the case that so many of the song's transcripts called for singing, or voice in various ways, and it does also happen that we know a lot of people whose voices we really like. So I feel like it emerged honestly and organically, but I would say that, wouldn't I?"

It's a stark but courageous conclusion to an esoteric almanac of abstract noise, tap dancing, stringed instruments, and sounds inspired by Latin American and Ethiopian regional music — with a healthy dose of Baltimore underground grit and grime. The Marriage of True Minds eagerly defies classification into a single genre, creating a complex and challenging yet pleasurable listening experience.

And as for the album title? Daniel, who is also a literature professor at Johns Hopkins University in Baltimore, says the album's name is not an homage to his adopted home state, which approved marriage equality by popular vote last November. Rather, it's a shout-out to Daniel's fellow bookworms, who are likely to catch the reference to Shakespeare's Sonnet 116. But Daniel isn't particularly eager to announce the connection.

"I think compelling art doesn't necessarily announce its relationship to something," he says. "It kind of confronts you with your own questions, and I would rather that be the experience."
Grab a free download of "Teen Paranormal Romance" from The Marriage of True Minds right here:
Matmos embarks on a North American tour next month, stepping off from New York City's Le Poisson Rouge on February 11. Click here for tour dates, videos, and more information about the band.