Seat Filler: Our New York Theater Guide for March 2013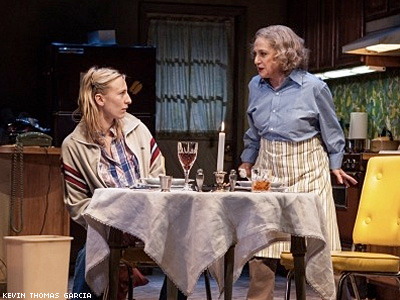 The Lying Lesson
Carol Kane stars as Bette Davis? That's all you really need to know about this juicy comedic thriller by out playwright Craig Lucas of Prelude to a Kiss and Longtime Companion fame. When an elderly Ms. Davis — captured in spirit more than impersonated — visits Maine in 1981 to buy an old lover's house, she finds an awkward new assistant full of secrets. "This play is a damn lie," Lucas writes in his author's notes, but it's also damn funny.
Atlantic Theater Company, through March 31.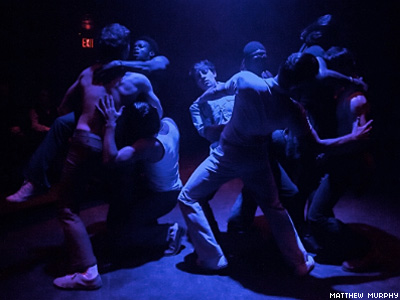 Hit the Wall
Tackling the dawn of the gay-rights movement outside Stonewall Inn on June 27, 1969, out playwright Ike Holter's rock-driven drama means well and looks great, particularly its stylized dance and fight choreography. Unfortunately, the stereotypical composite characters — snap queens, Judy Garland-mourning drag diva, butch lesbian, one cartoonishly bigoted cop, etc. — don't do the riots justice. "I was there," they repeat, but we never feel like we were.
Barrow Street Theatre, open-ended.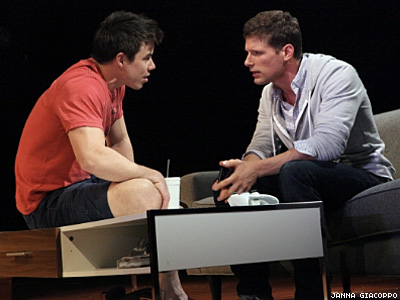 Really Really
Damaged college kids do the darndest things in Paul Downs Colaizzo's edgy, provocative drama — helmed by out director David Cromer — about friends trying to make sense of a date rape that may not have happened: Is the real victim the manipulative poor trash (Girls' Zosia Mamet) or the quiet hothead (Friday Night Lights' Matt Lauria)? Two closeted characters, a hot jock and a Christian go-getter, have their judgment further clouded by sexual repression.
Lucille Lortel Theatre, through March 30.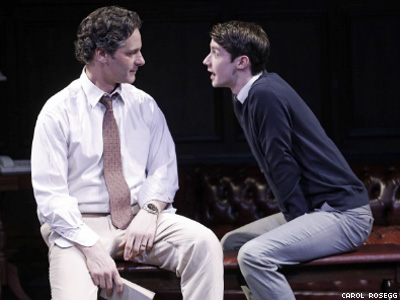 The Old Boy
Keen Company artistic director Jonathan Silverstein admirably dusts off A.R. Gurney's taut 1991 time capsule about a politician who, when returning to his elite prep school, must face his own role in the downfall of a gay classmate who has recently succumbed to AIDS. Seen in flashbacks with the charismatic Peter Rini as mentor to Chris Dwan's effeminate, clearly smitten mentee, the complicated relationship between the two boys eclipses the dated, clunky script.
Clurman Theatre, through March 30.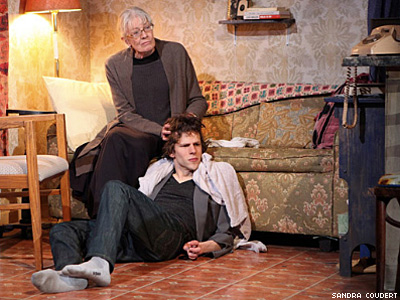 The Revisionist
Jesse Eisenberg emerged as a playwright in 2011 with Asuncion; with his latest, he proves himself a great one. The twitchy Social Network star also plays David, a pot-smoking, self-centered, solitude-seeking writer and a fascinating foil for his vibrant costar, Vanessa Redgrave. The legend is mesmerizing as Maria, a distant cousin who welcomes David to her modest Poland flat and ultimately softens the spoiled brat with hesitant recollections of her Holocaust survival.
Cherry Lane Theatre, through April 27.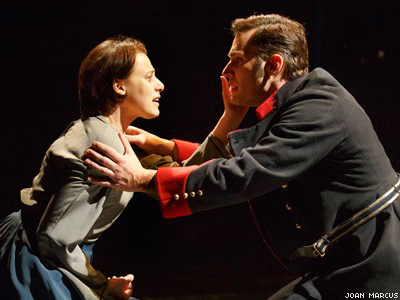 Passion
Set in 1863 Italy, Stephen Sondheim and James Lapine's moody 1994 Best Musical Tony winner makes a triumphant return under the great John Doyle's efficient, thoughtful direction. Judy Kuhn is both haunting and infuriating as Fosca, a homely, sickly stalker who creeps under the skin and into the heart of Giorgio, a handsome soldier played by the commanding, silver-throated Ryan Silverman. As Giorgio's beautiful lover, Melissa Errico is sunshine personified.
Classic Stage Company, through April 19.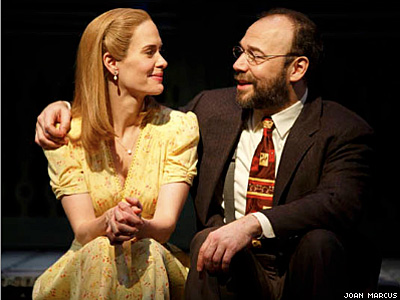 Talley's Folly
It may be hard to fathom how late gay playwright Lanford Wilson's sweet but slight 1979 two-hander won the Pulitzer Prize for Drama, but Danny Burstein and American Horror Story's Sarah Paulson make a satisfying meal of it in Roundabout Theatre Company's pleasant revival. Set in a Missouri boathouse in 1944 and told in real time, it's a touching tale of a Jewish accountant and a conservative Protestant spinster circling what could be their last chance at love.
Laura Pels Theatre, through May 12.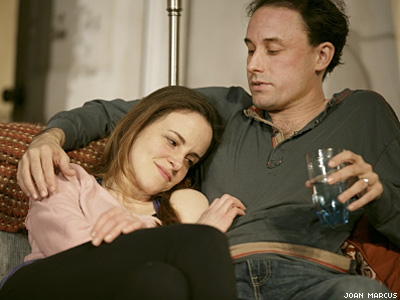 Belleville
Are young Americans really as lazy and self-absorbed as foreigners see them? That's up for debate in Amy Herzog's tense, electrifying drama about married ex-pats in a Parisian flat where the rent's unpaid, the husband's jerking off instead of fighting pediatric AIDS, and a kitchen knife is passed around ominously like Chekhov's Gun. In the skilled hands of Maria Dizzia and Greg Keller, this codependent couple's epic unraveling is a thing of exquisite, terrifying beauty.
New York Theatre Workshop, through April 14.
The Flick
Reuniting with in-demand director Sam Gold, celebrated young playwright Annie Baker gives voice to three underpaid misfit employees of a run-down Massachusetts movie theater in this long, slow-burning, but ultimately rewarding dark comedy. Louisa Krause is a standout as Rose, a troubled green-haired projectionist thought to be a lesbian until she makes a clumsy pass at Avery (Aaron Clifton Moten), an awkward cinephile who may not like girls either.
Playwrights Horizons, through April 7.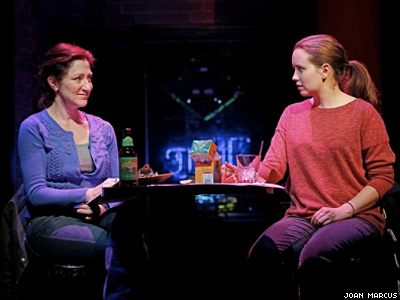 The Madrid
Nurse Jackie's Edie Falco could make a Chinese takeout menu sound riveting, but she's been given a much better premise with Liz Flahive's quirky yet subdued drama. Falco stars as a kindergarten teacher who abandons her job and family so that she can chill in a crappy apartment and dance to Ke$ha songs. Out director Leigh Silverman embraces the subtleties of this frustrating but absorbing story about living your own life, societal pressures be damned.
Manhattan Theatre Club, through May 5.
See last month's theater review column here.