PHOTOS: We Asked The Stars, 'Who Is Your Hero?'
The Trevor Project honored Jane Lynch Sunday at TrevorLive, a star-studded gala at the Palladium Theatre in Los Angeles, with its prestigious Trevor Hero Award for her work promoting visibility and acceptance of LGBT youth.

Hosted by comedian Kathy Griffin, the evening featured performances by Adam Lambert, Amber Riley, Cheyenne Jackson, Megan Hilty, Sia, the cast of Glee, and more, who turned out to celebrate the 15th anniversary of the Trevor Project and its lifesaving mission of providing suicide prevention services to LGBT young people. Adam White, a senior at Brigham Young University and a member of the organization's Youth Advisory Committee, and Toyota also received awards for their advocacy.

"I would love this moment to be falsely modest and say that I am no hero," Lynch said upon accepting the Trevor Hero Award. "I would love to be able to say what I do is not extraordinary. But I can't. I deserve this freakin' award."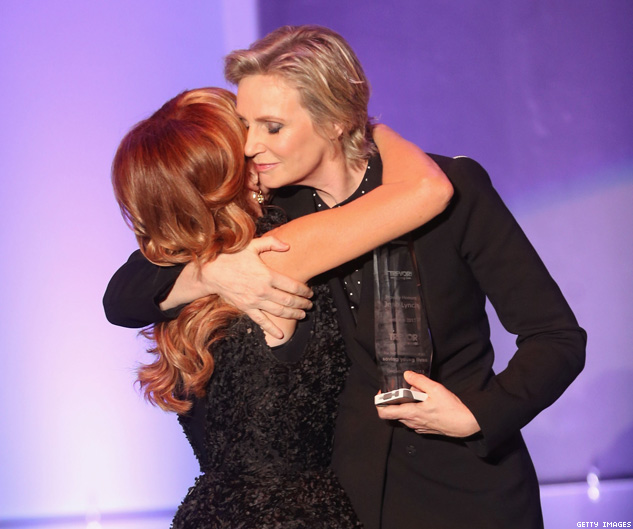 In honor of Lynch's achievement as a Trevor Hero, The Advocate asked the stars at TrevorLive — including Griffin, Glee's Alex Newell, TrevorLive producer and director Adam Shankman, basketball star Jason Collins, Glee's Dot-Marie Jones, Bridegroom's Shane Bitney Crone, and Pretty Little Liars' Brant Daugherty — about their own heroes.
Check out their responses as well as more highlights from TrevorLive on the following pages.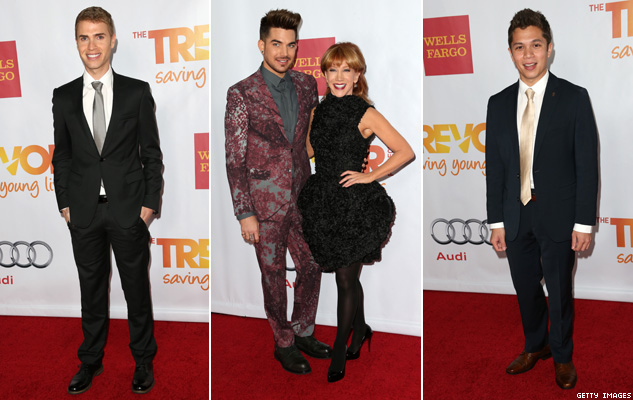 Shane Bitney Crone, Bridegroom filmmaker
"George Takei is one of my heroes," said Shane Bitney Crone, standing next to his mother and sister on the red carpet. "It's amazing what he's done and how he's made a name for himself on social media and how he's using that to help so many people."
"Adam Lambert is another," added the filmmaker, whose award-winning documentary Bridegroom was recently picked up by Redbox. "He's inspired me and showed me it's OK to be who you are and [being gay] is something to be proud of. And my mom!"
Kathy Griffin, comedian and TrevorLive host
For Kathy Griffin, Jane Lynch was an obvious choice for a Trevor Hero Award. "She's the perfect spokesperson for all that Trevor represents, which is when you're hurting, reach out, get a laugh, hear a song, feel a little better," she said.
Adam White, youth advocate and Trevor Youth Innovator Honoree
"I'm so excited and so humbled to be recognized and I am proud to represent the enormous potential of LGBTQ youth who identify as religious — and of all unlikely things, as a Mormon," said White upon accepting the Trevor Youth Innovator Award at the ceremony.
The cast of Glee performs Charlie Chaplin's "Smile" for Trevor Hero Award recipient Jane Lynch.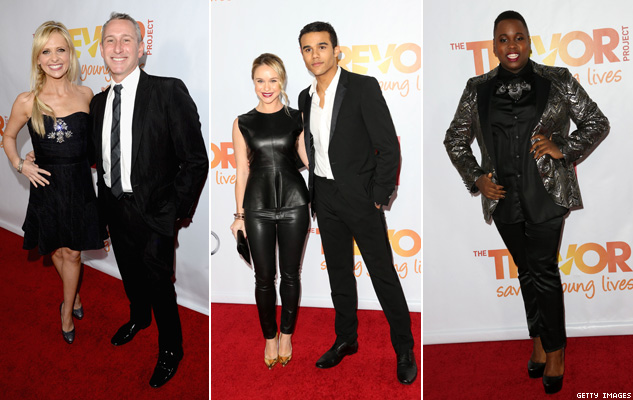 Adam Shankman, producer and director
"I look up to Jane Lynch because she stands by what she says, she shows up for everything that you ask her to, she is always on the right side of history," said Adam Shankman, after sharing a photograph with longtime friend and fellow Buffy the Vampire Slayer alum Sarah Michelle Gellar. "She knows how to make fun of herself but to use her platform to say everything right about being a leader."
Becca Tobin and Jacob Artist of Glee
On the necessity of the Trevor Project, Jacob Artist said, "There's always somebody to talk to. I think that's the biggest thing, is reaching out and finding those people that will show you the love and support that kids need."
Alex Newell of Glee
"I looked up to, as a kid, so many different people," said Alex Newell, who also credits his mom as a huge childhood inspiration. "I really look up to Patti LaBelle. I loved how she carried herself, for some strange reason. I still think she's amazing. She's got a new attitude and I love it."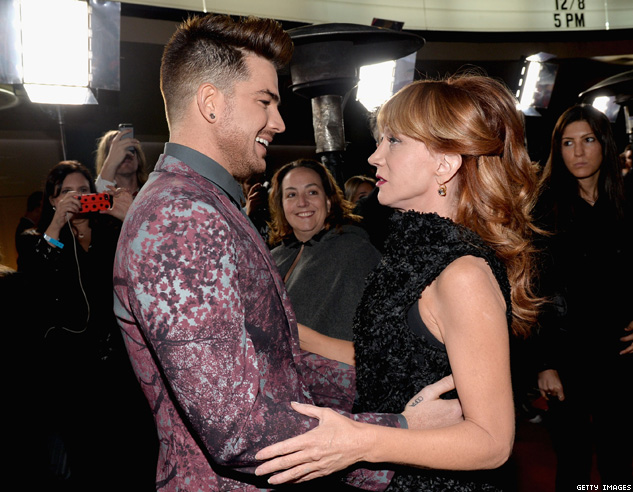 Kathy Griffin, comedian and TrevorLive host
"I look up to the people who have been through the fire. I look up to Joan Rivers, Cher, Bette Midler. I look up to the women that have sort of been there. I was lucky enough to participate in a documentary about Moms Mabley, so I look up to the people who broke the ceiling and paved the way for me," said Griffin, who playfully posed on the red carpet with Adam Lambert. "I also am such a fan of my own contemporaries. Jane Lynch is an old pal of mine, and I'm so excited to see her honored tonight because she's so deserving of it and she's such a sweet girl and so talented."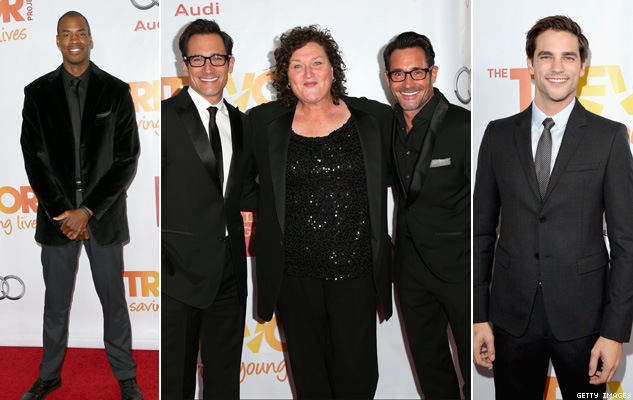 Jason Collins, professional basketball player
"A lot of my heroes are sports people. Magic Johnson and Hakeem Olajuwon are my basketball idols. But just sports people in general: Martina Navratilova, I'm a huge fan of hers. The way that she dominated and kicked butt, the way that she carried herself, she really was one of the original trailblazers for the LGBT community."
Dot-Marie Jones of Glee
"Jane Lynch," said Dot-Marie Jones, who attended TrevorLive in support of her Glee costar as well as the "amazing" outreach of Trevor, which provides lifesaving services to over 100,000 LGBT youth every year. "I love her so much, and the fact that I get to work with her is ridiculous. I feel like I should be paying them."
Brant Daugherty of Pretty Little Liars and Dancing With the Stars
"My childhood hero was Chuck Norris," said Daugherty, who recently appeared on Dancing With the Stars alongside performer Amber Riley. "I'd love to meet him someday. Walker, Texas Ranger? My parents love that show."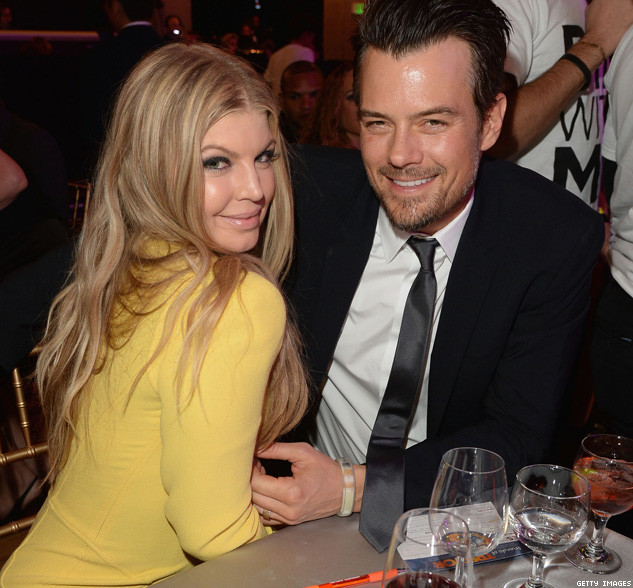 "Glamorous" singer Fergie and actor husband Josh Duhamel enjoy the TrevorLive 2013 gala.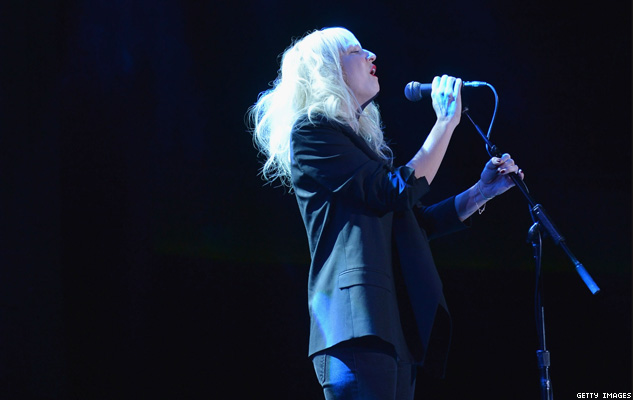 Australian songstress Sia gives a soulful performance of "Titanium," the song she recorded with David Guetta.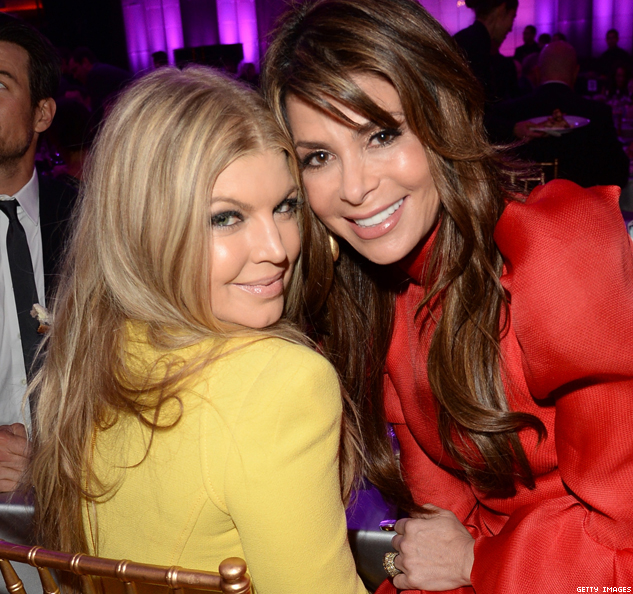 Fergie and former American Idol judge Paula Abdul pose amid their fellow supporters and donors at TrevorLive.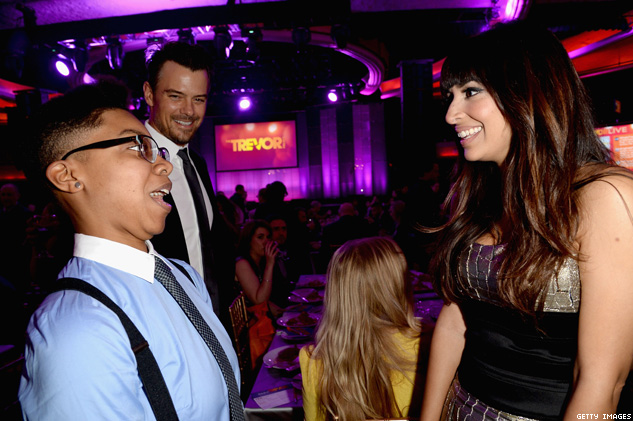 Josh Duhamel and New Girl's Hannah Simone rub shoulders with Trevor Lifeline caller Jordan Scruggs. Since 1998, the Trevor Project has been a trailblazer in suicide prevention, providing such vital services as the Trevor Lifeline (1-866-488-7386), a toll-free number that offers troubled LGBT youth 24/7 access to trained counselors. For more information on Trevor, including its TrevorText and TrevorChat programs, visit TheTrevorProject.org.