PHOTOS: Hanging Out at the GLAAD Awards
The 26th Annual GLAAD Media Awards took place Saturday night at the New York Mariott Marquis, and was hosted by Good Morning America's Sam Champion, Josh Elliot, and Lara Spencer. Madonna, Bernadette Peters, Dan Stevens, Russell Simmons, Milla Jovovich, Jake Shears, Chris Kluwe and Brendon Ayanbadejo were among the special guests.
The Advocate and its sibling publication, Out, both owned by Here Media, took home the award for Outstanding Magazine Overall Coverage. AIDS documentary How to Survive a Plague earned an award for Outstanding Documentary, and NBC's Smash was awarded Outstanding Drama. See a full list of the winners here.
The GLAAD Media Awards recognize and honor media for their fair, accurate and inclusive representations of the lesbian, gay, bisexual and transgender community and the issues that affect their lives, according to the organization's website. GLAAD Media Award nominees were published, released, or broadcast between January 1, 2012 and December 31, 2012. Additional award recipients will be announced in Los Angeles on April 20 at the JW Marriott, and in San Francisco on May 11 at the Hilton San Francisco — Union Square.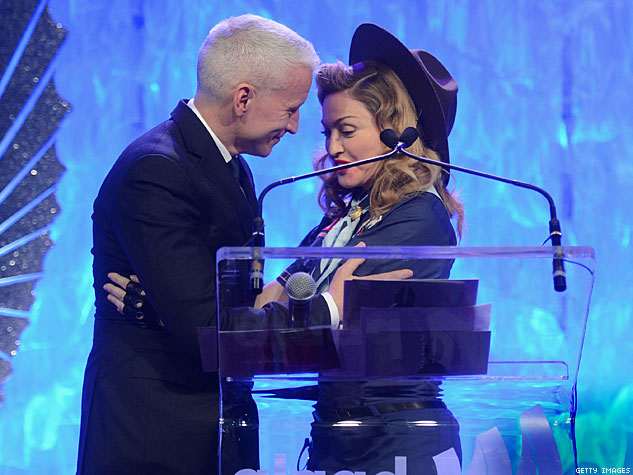 Anderson Cooper accepted his fourth Vito Russo Award from Madonna, saying "I've had so many blessings in my life, and being gay is certainly one of the greatest blessings. It has allowed me to love and to be loved and to help open my head and my heart in ways I could never have predicted. The ability to love one another, the ability to love another person is, in my opinion, one of God's greatest gifts, and I thank God every day for enabling me to give and share love with the people in my life — my family, and my friends, and my partner Benjamin. Thank you very much, and thank you for being here."
Watch Cooper's speech, via GLAAD, below: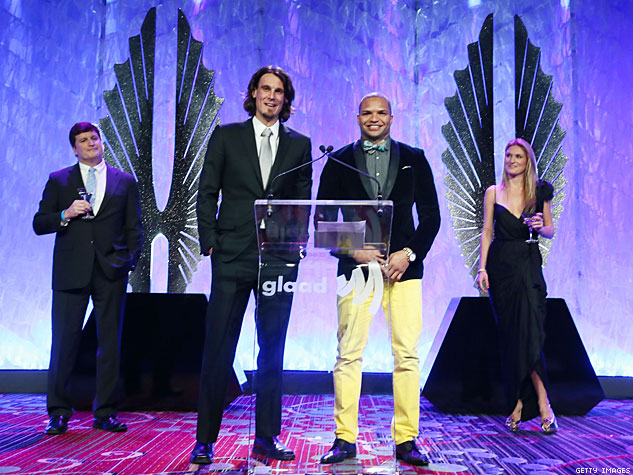 President of Diageo Peter McDonough, Minnesota Vikings punter Chris Kluwe, Super Bowl Champ and Baltimore Ravens cornerback Brendon Ayanbadejo, and arts activist and philanthropist Sarah Arison speak onstage at the 24th Annual GLAAD Media Awards.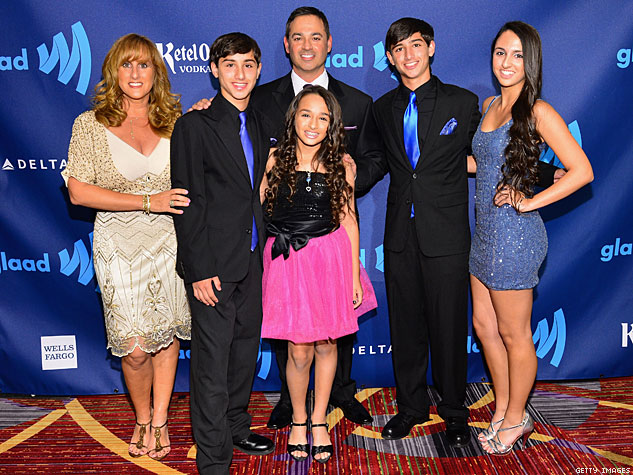 After a speech calling for greater efforts to end discrimination against transgender people, GLAAD President Herndon Graddick (not pictured) was joined onstage by 12-year-old transgender girl Jazz (center) and her family.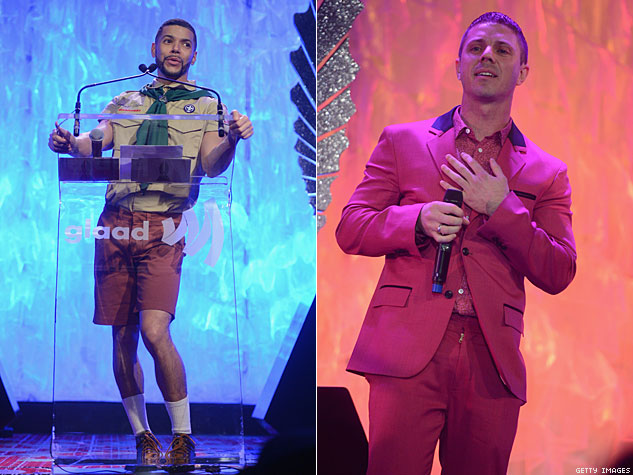 Out actor and GLAAD spokesman Wilson Cruz followed the evening's unofficial theme and donned a Boy Scout uniform, and Jake Shears of the Scissor Sisters wowed the audience with an energetic performance.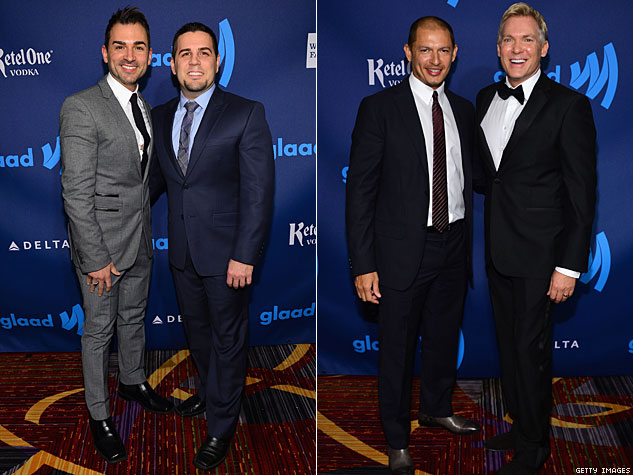 Same-sex couples from across the country turned out at last night's awards, including wanting-to-be-married couple Paul Katami and Jeff Zarrillo (left), plaintiffs in the Proposition 8 case headed to the Supreme Court this month, and married couple Rubem Robierb and GMA anchor Sam Champion.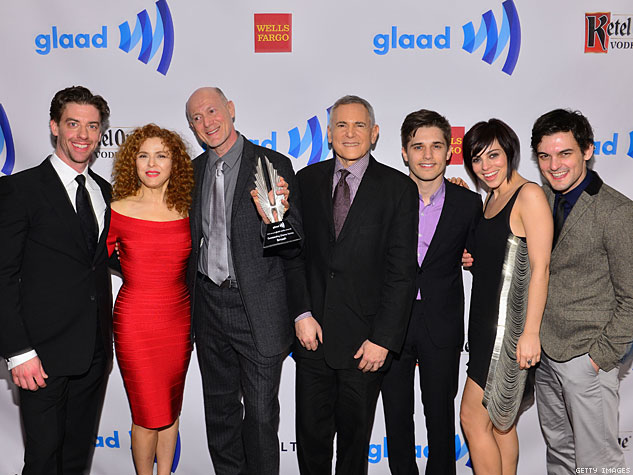 A Smash-ing group celebrates Smash's award for Outstanding Drama: Actors Christian Borle, Bernadette Peters, Producers Neil Meron and Craig Zadan, and actors Andy Mientus, Krysta Rodriguez and Wesley Taylor.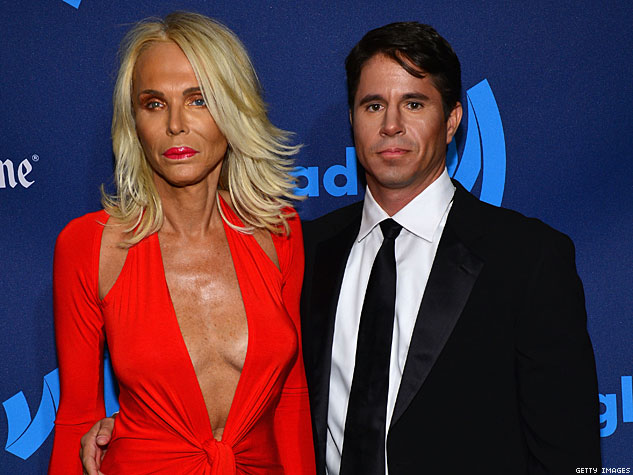 Transgender model Lauen Foster and GLAAD president Herndon Graddick.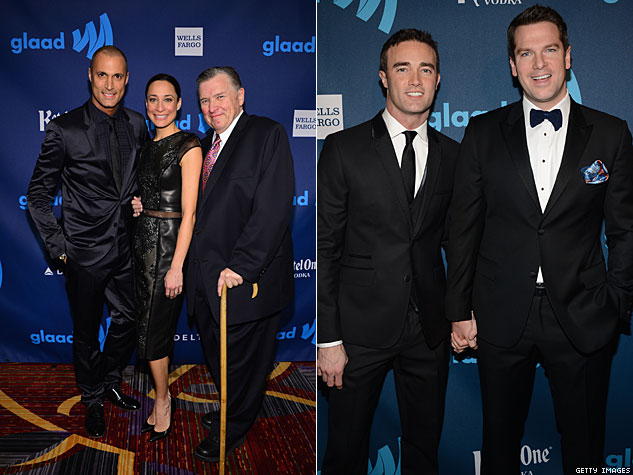 From left: Photographer Nigel Barker with his wife Cristen Barker, activist and author David Mixner, Patrick Abner, and MSNBC anchor Thomas Roberts.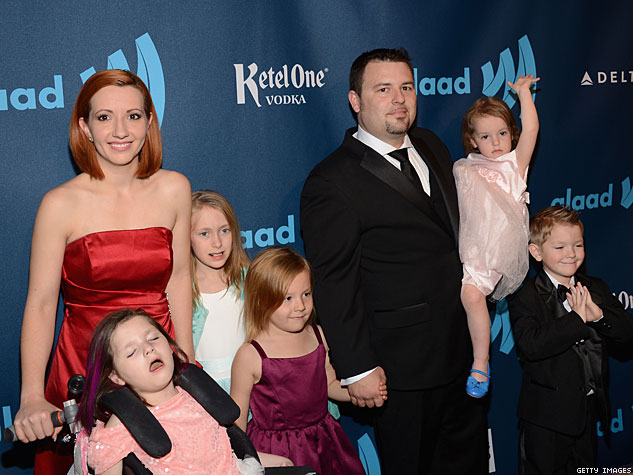 Six-year-old transgender girl Coy Mathis (center, in maroon) and her family took the stage with GLAAD President Graddick, who encouraged everyone to sign a Change.org petition urging Coy's Colorado elementary school to continue allowing her to use the girl's restroom.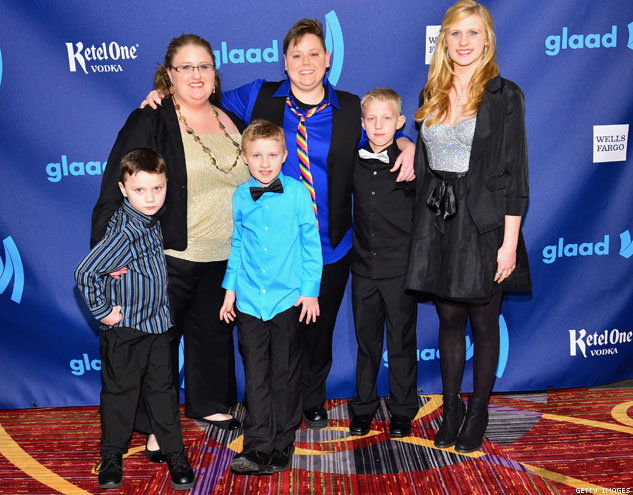 Jennifer Tyrrell, the lesbian mom ousted from leading her son's cub scout pack because she is gay, attended the award ceremony with her family.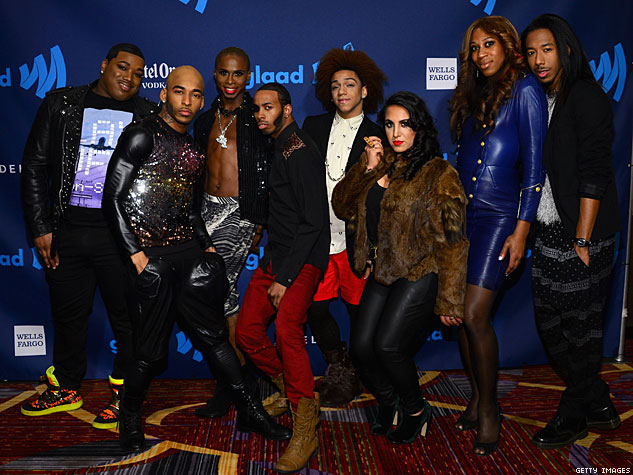 Dance troupe Vogue Evolution entertained guests with a captivating performance.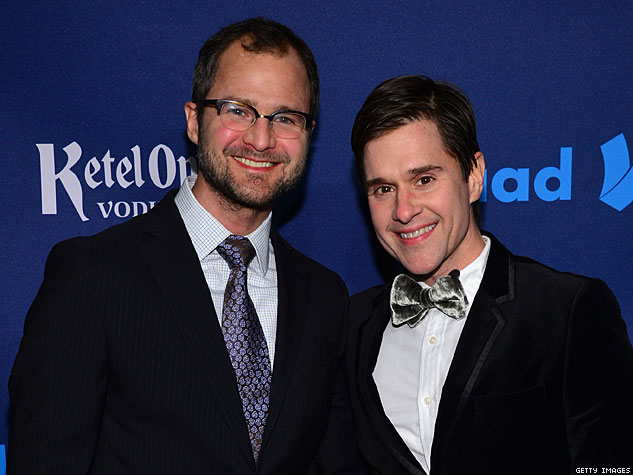 Josh Kilmer-Purcell (left) and Dr. Brent Ridge, better known as The Fabulous Beekman Boys, accepted an award for Outstanding Reality Program on behalf of CBS' The Amazing Race.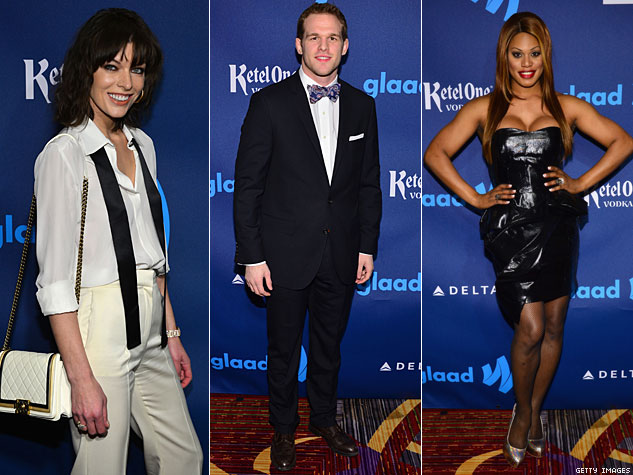 Actor Milla Jovovich, Athlete Ally founder Hudson Taylor, and actor Laverne Cox each strutted their stuff at the ceremony.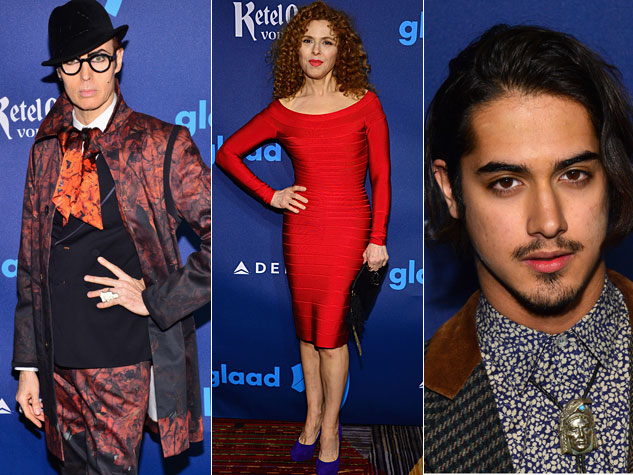 Writer Patrick McDonald, Smash actor Bernadette Peters, and Canadian actor Avan Jogia were also in attendance.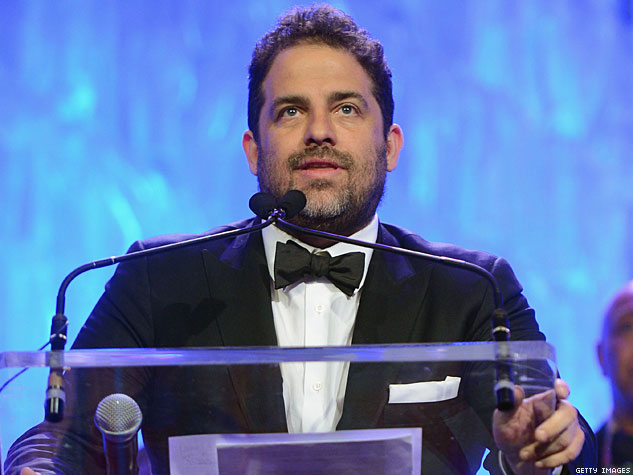 Accepting the Ally Award, director Brett Ratner said, "In my life I've spent a lot of time searching deep into my heart for what my true values and beliefs are, and I know that I have love in my heart for everyone. But it doesn't count for much if a word has been said by me that helps to perpetuate and validate the people out there that are truly bigoted and hateful. After some examination, I have taken some steps that I hope will stamp out thoughtless bigotry. Together, with a number of my friends, we made some PSAs with the hope of changing people's behavior and helping them become allies for all equality. It's been truly rewarding and I'm grateful and humbled to receive this honor from GLAAD."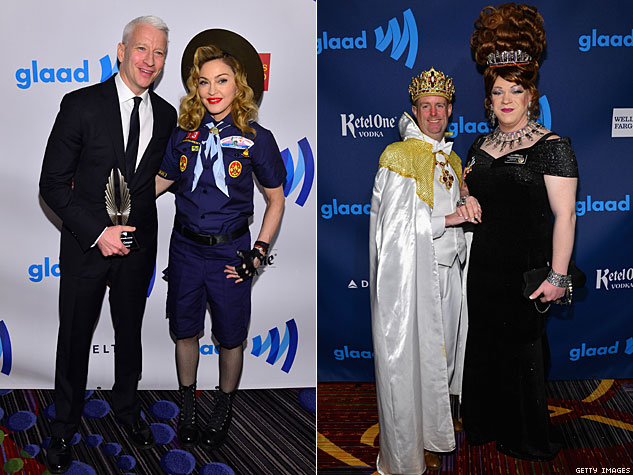 At left: Anderson Cooper and Madonna after Madonna presented Cooper with the Vito Russo Award; at right Emperor Ritz Kraka and Empress Witti Repartee of the Imperial Court of New York.