ONE Archives Exhibit Highlights Queer L.A. Mags Dating Back to the 1940s
A fascinating exhibit opens Saturday night at West Hollywood's ONE National Gay & Lesbian Archives Gallery and Museum: "Queers Print," a study of LGBT publishing that emanated from Los Angeles in the mid-century. The exhibition includes issues of The Ladder, ONE, The Lesbian Tide, and The Advocate, which launched 46 years ago. With over 40 different magazines, newspapers, newsletters, and zines, "Queers Print" allows the public to peruse six decades of LGBT history. "Los Angeles's significance as a center for the queer press, as well as more broadly the history of queer activism, is often overlooked in national histories of LGBTQ struggle and it is the intention of this exhibition to raise awareness of this region's importance, specifically in the realm of the history of publishing," Jamie Scot, ONE's project and development manager, said in a statement.
"Queer Print" runs at the ONE gallery, 626 N. Robertson Blvd., West Hollywood, 90069, until March 17. Check out some of the exhibit's covers and issues below.
Vice Versa, Vol. 1, No. 6 (November 1947)
Arguably the first lesbian publication in the country and possibly the world, Vice Versa: America's Gayest Magazine was produced almost single-handedly by its creator Edith Eyde. Each issue had only twelve copies and were distributed hand-to-hand to ensure safekeeping.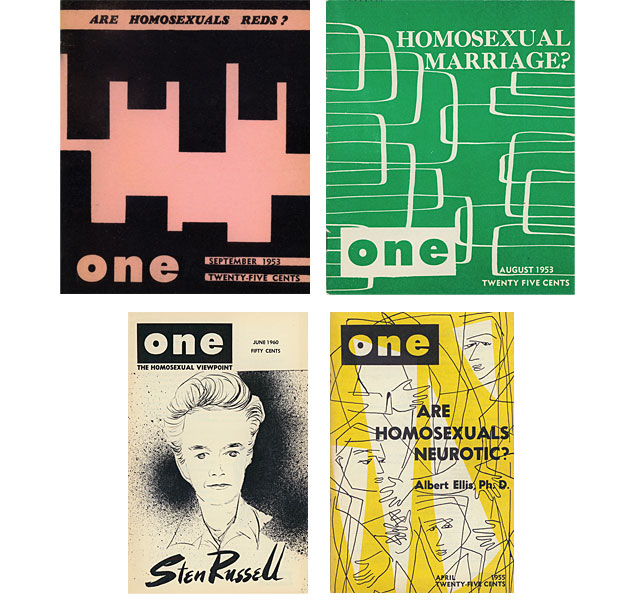 (Upper left) ONE magazine, Vol. 1, No. 9 (September 1953)
Early issues of ONE featured woodblock designs by the magazine's art director Joan Corbin, who used the pseudonym Eve Elloree to protect herself from being publicly identified as a homosexual.

(Upper right) ONE magazine, Vol. 1, No. 8 (August 1953)
The first widely circulated publication for homosexuals in the United States, ONE magazine was a vital progressive voice during the repressive McCarthy era, pioneering what was then called the "homophile movement." While initially sold hand-to-hand, by the mid-'50s ONE was available at select bookstores and newsstands throughout the United States, Mexico and Europe, as well as through subscription.

(Lower right) ONE Magazine, Vol. 3, No. 4 (April 1955)

(Lower left) ONE Magazine, Vol. 8, No. 6 (June 1960)
This cover of ONE Magazine features of portrait editor and writer Stella Rush, who used the pseudonym Sten Russell.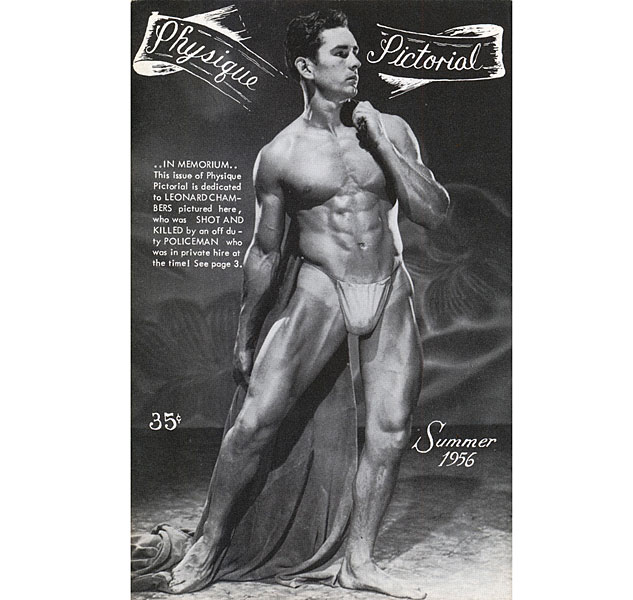 Physique Pictorial, Vol. 6, No. 2 (Summer 1956)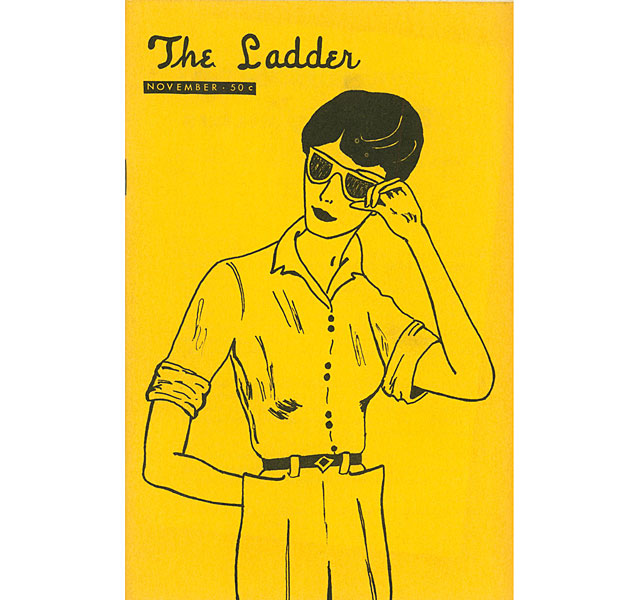 The Ladder, Vol. 5, No. 2 (November 1960)
While founded in San Francisco as the magazine of the lesbian homophile group The Daughters of Bilitis, The Ladder regularly featured information from Los Angeles. ONE editor Stella Rush wrote for The Ladder, as well as Edith Eyde, who used the named Lisa Ben, an anagram for "lesbian," in the magazine.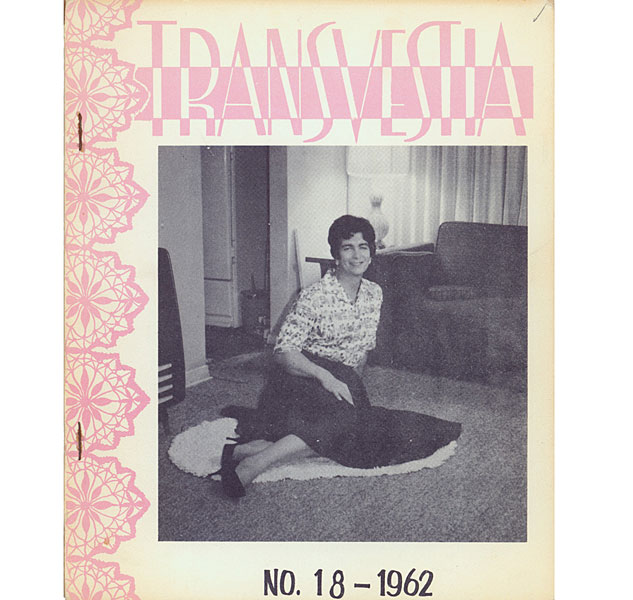 Transvestia, Vol. 3, No. 18 (December 1962)
Founded and edited by Virginia Prince, Transvestia was first published in January 1960 with three objectives: "To provide EXPRESSION for those interested in the subjects of exotic and unusual dress and fashion. To provide INFORMATION to those who, through ignorance, condemn that which they do not understand. To provide EDUCATION for those who see evil where none exists."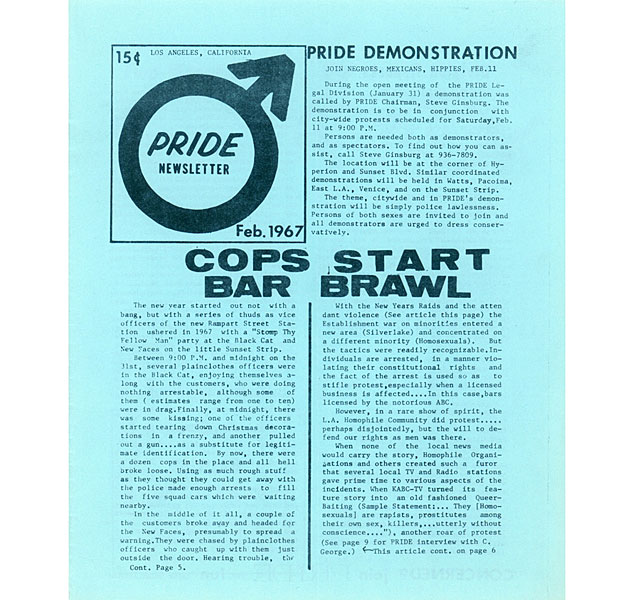 PRIDE Newsletter (February 1967)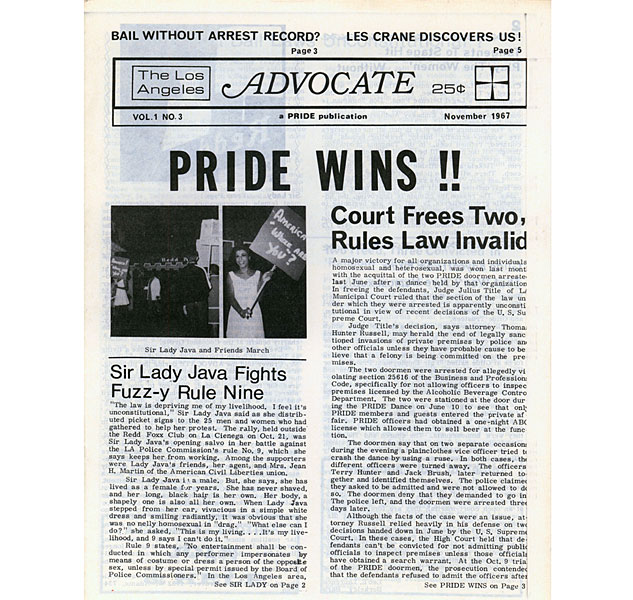 The Los Angeles Advocate, Vol. 1, No. 3 (November 1967)
The Los Angeles Advocate began as the newsletter of Personal Rights In Defense and Education (PRIDE), a local activist group well known for protesting the LAPD raid of the Black Cat Tavern in 1967. While PRIDE ceased in 1968, The Los Angeles Advocate would go on to be its own independent publication, renamed simply The Advocate in 1969.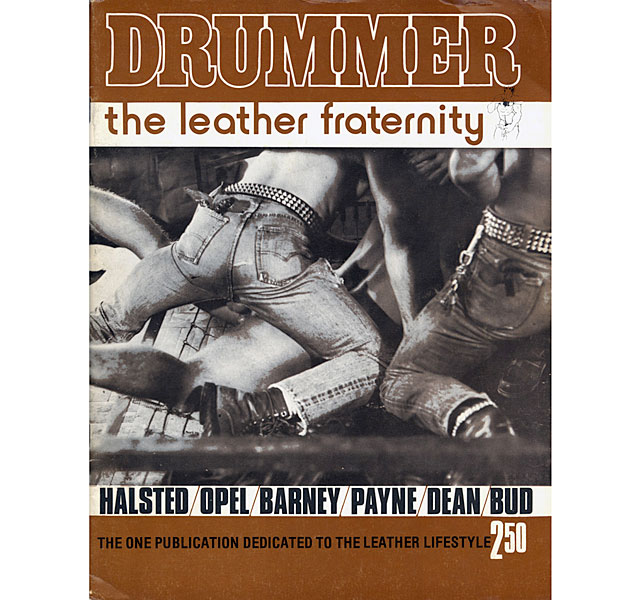 Drummer, Vol. 1, No. 2 (August/September 1975)

The Lesbian Tide, Vol. 2, No. 9 (April 1973)
Originally the newsletter of the Daughters of Bilitis Los Angeles chapter, The Lesbian Tide became its own independent publication in September 1972. Lead by activist, writer and community organizer Jeanne Córdova, The Lesbian Tide eventually became a nationally distributed publication with a political lesbian-feminist agenda that set it apart of earlier lesbian publications like The Ladder.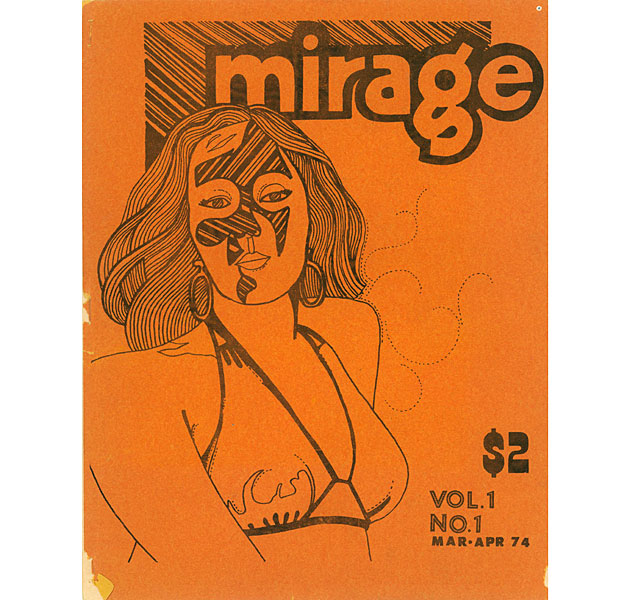 Mirage, Vol. 1, No. 1 (March-April 1974)
The publication of the Transsexual Action Organization (TAO), founded by militant trasngender activist Angela Douglas in Los Angeles in 1970, Mirage included national and international news about transsexual rights, medical care, and interviews with numerous transgender women, many directly involved in TAO. Each issue also included information on ESP, UFOs, and the occult – topics of special importance to Douglas.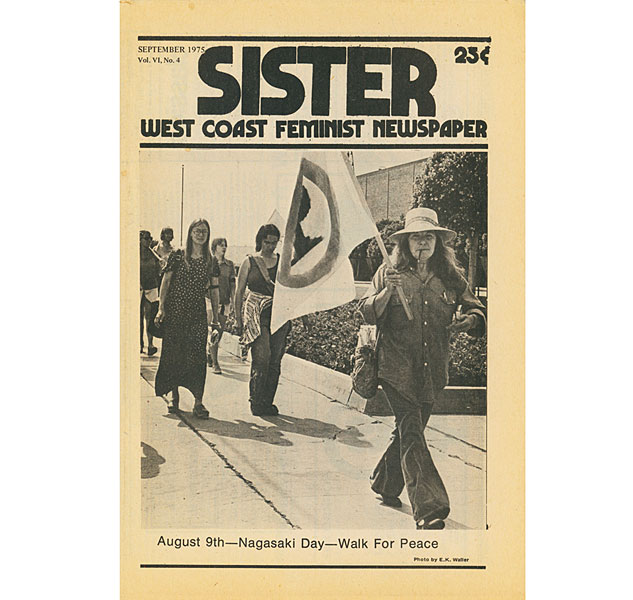 Sister, Vol. 6, No. 4 (September 1975)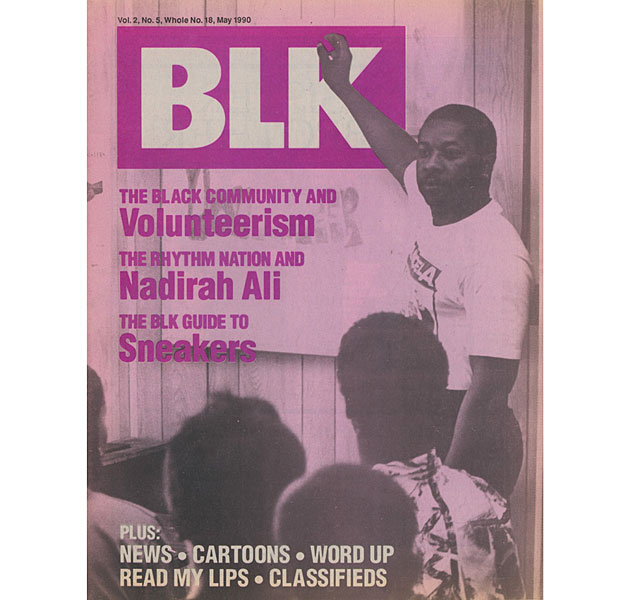 BLK, Vol. 2, No. 5 (May 1990)
BLK was a monthly magazine founded by Alan Bell for gay and lesbian African-Americans. First published in December 1988, BLK began as a local publication but grew to become nationally focused and distributed.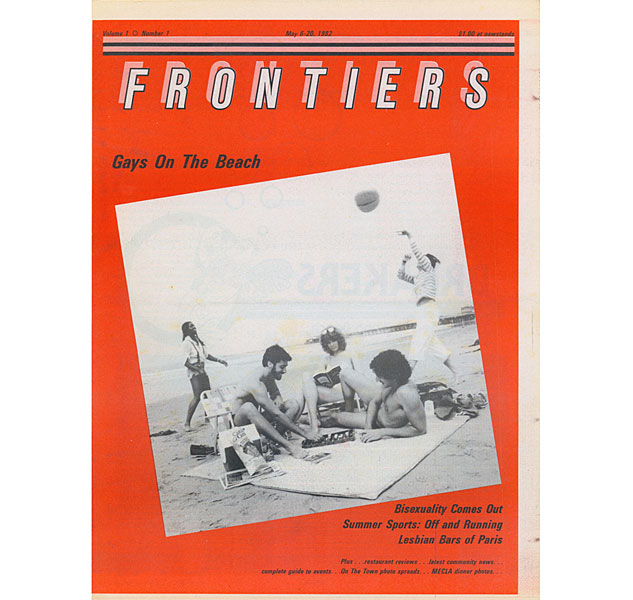 Frontiers, Vol. 1, No. 1 (May 6-20, 1982)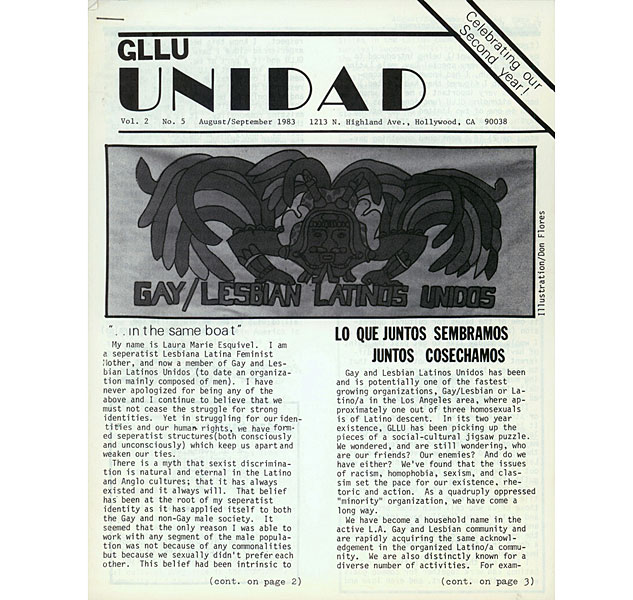 Unidad, Vol. 2, No. 5 (August/September 1983)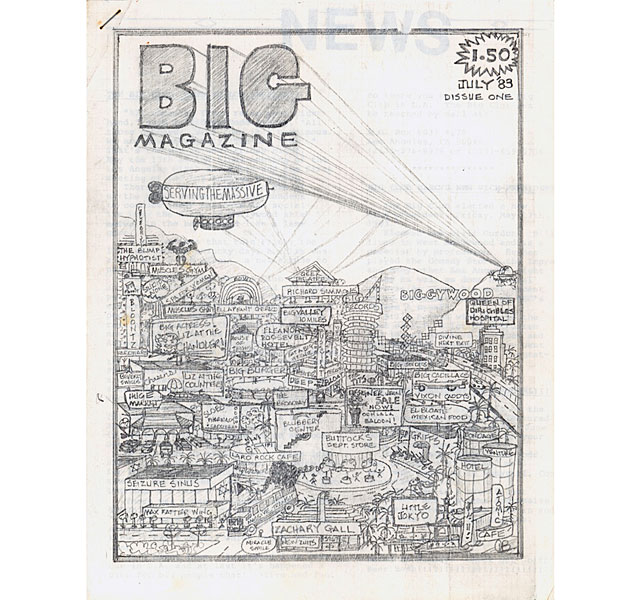 Big Magazine, No. 1 (July 1983)
Big Magazine was a zine produced in Los Angeles as part of the L.A. Big Club dedicated to "serving the massive." The magazine included positive and humorous content specifically for larger gay men.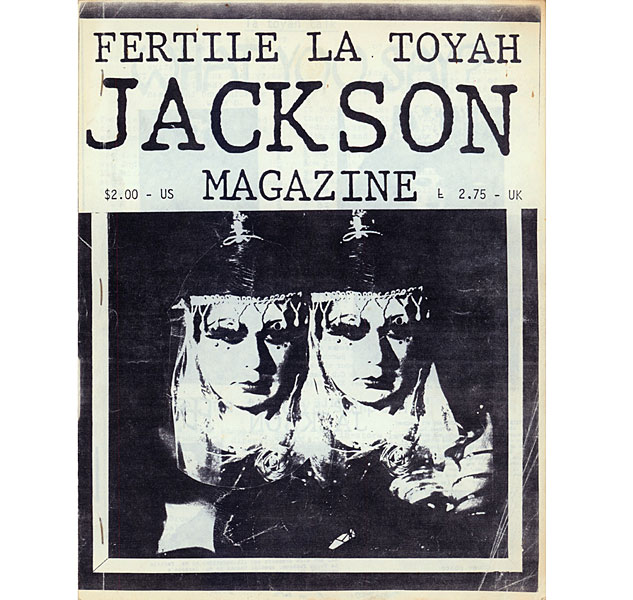 Fertile La Toyah Jackson Magazine, No. 2 (c. late-1980s)
Produced by L.A. queercore legend Vaginal Davis, Fertile La Toyah Jackson Magazine focused on the life, thoughts and rants of the zines' namesake character, Fertile, shown here on the zine's cover.

Sin Bros., No. 4 (Spring 1990)

Infected Faggot Perspectives, No. 8 (April 1992)
With a confrontational tone and morbid humor, W. Wayne Karr and Cory Roberts Auli's zine Infected Faggot Perspectives was "Dedicated to Keeping the Realities of Faggots Living WITH AIDS and HIV Disease IN YOUR FACE Until the Plague is OVER!!!" The zine countered the sentimentalization of "AIDS victims" and the assimilationist impulses of contemporary gay politics.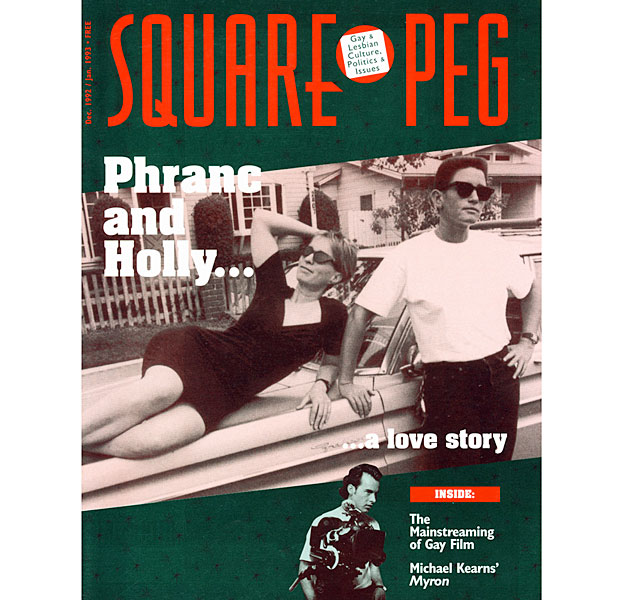 Square Peg, Vol. 1, No. 7 (December 1992/January 1993)