How Lesbians Took Back Buffalo
The lesbian bar scene in Buffalo, N.Y., is hardly a scene at all. In fact, the "scene" consists of a single lesbian bar/club. And after you've been there a handful of times, it loses its luster. The reality is that there isn't a plethora of options for women who want to go out, have a good time, and meet other women. Most Buffalo lesbians are forced to congregate elsewhere, hanging out at either a gay bar or a straight bar — or not going out at all.

Complaints have circulated throughout the lesbian community continuously and they are always the same: Why is there only one lesbian bar in the whole city? Why is there's no place for us to go and hang out? Christina Holdsworth, 29, had heard them all and had even complained herself. Then, while hanging out with some friends one evening, she came up with a solution. But more important, she decided to take action.

"I had a straight friend who lived in Boston and she had told me that she had been to a few straight bars where a group of lesbians showed up. She thought I should do the same thing [in Buffalo]."

The "lesbian guerrilla movement" is nothing new. Straight bar takeovers have been happening all over the country in small and large cities that lack suitable venues, clubs, and bars for lesbians to frequent. But it was an entirely new concept for Holdsworth, considering it had never been done before in Buffalo.

"I play floor hockey with a group of women," she explains. "We were out at a bar after hockey and I brought up the idea. I asked them what they thought and if the idea could work here. They were very supportive and told me to do it."

The only thing left for Holdsworth to do was come up with a name. "We were talking about different names, anything from 'guerrilla gay bar,' etc. But we didn't want it to be too militaristic. 'Ambush' seemed to fit the whole concept of what we were trying to do, but in a friendly way."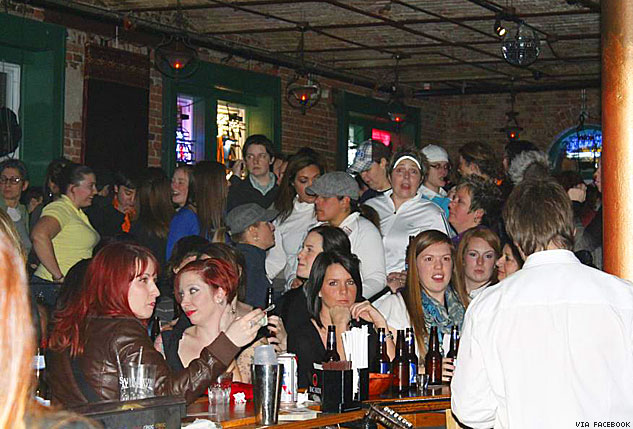 Ambush at Cobblestone

The definition of ambush is a "surprise attack." But Holdsworth wanted the surprise factor without the so-called attack. Naming her movement "Ambush" was also a creative play on words — something that lesbians would find amusing and fun. With a solid name in place, she set a date, picked a place, and created a Facebook page. On the night of the very first Ambush event, over 100 women showed up. In fact, the evening was such a success that Holdsworth had to reach out to a couple of friends for help in organizing the next one.

"Christina is basically in charge," laughs Dana Fauth, 48. "But between the three of us we can use our connections and accomplish a lot more."

"The size of the venue soon became an issue," adds Tee Fregeaux, 46, who rounds out the Ambush trio. "We had over 200 women at the second event, so we knew that we needed to select venues that could accommodate us."

The overflow of women attending the Ambush events is evidence that they are thrilled to have a neutral place to go, where they can interact and hang out. "The ages range from 21 to 70," says Fregeaux. "It's all different colors and a great mix of women — lesbian, bisexual, asexual, whatever."

"The reception from the lesbian community has been freaking unreal," adds Holdsworth. "Everyone has a blast at our events, both old and young women. And we have heard really positive feedback from every bar we've been to. We drink and have fun, and we're polite and friendly. The owners think we are just a good group of people to have around."

But what about those unsuspecting straight individuals who happen to be at a bar when an Ambush hits? "I personally haven't run into anyone who has been blatantly blindsided," says Holdsworth. "But at one place I was standing at the bar and getting a drink. I saw one couple and the woman was clearly annoyed. She turned to her boyfriend and said, 'Oh, my God, they are everywhere!' That was the best reaction because we are there in your face, but in a friendly way."


Ambush at Cobblestone

Holdsworth's Ambush movement has become so popular that bar and club owners are reaching out to her and asking to host an event. "We want to try and give business to gay-friendly places as much as we can," she says. "And we also want to reach beyond Buffalo to neighboring cities, such as Rochester."

What started out as simply finding an alternative bar or club to hang out at on a Friday night has become a growing brand. And the Ambush girls have high hopes for the future, which include a logo, T-shirts and other merchandise, and a variety of themed events.

"We have big plans for Pride," says Fauth. "And I think it's important for us to diversify, instead of just doing the bar and club scene."

"The focus of the group will always be a monthly happy hour," says Holdsworth. "But if [Ambush] keeps growing organically, then we will continue to grow with it. Pride is definitely something we want to be a part of. We want to create the biggest and best party we can, but we'll have to start fund-raising for that. As a not-for-profit entity, which means we have to rely on the talents of others in the lesbian community for help and contributions."

"Anyone can organize an Ambush community," says Fauth. "I'm sure there are other cities like Buffalo where there's a small lesbian community and they want to meet people."

"Our community here in Buffalo is full of love, so if you're ever in Buffalo, look us up," adds Fregeaux.

If you are interested in learning more about the Ambush movement, visit AmbushBuffalo.com.