Hot Sheet for February 15, 2013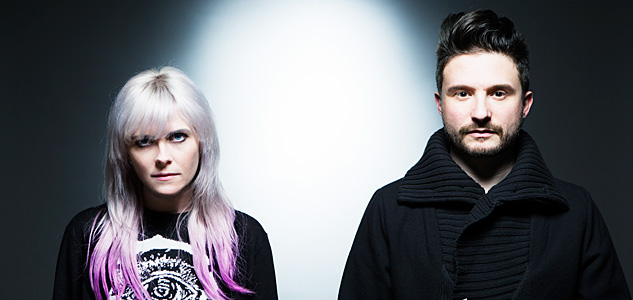 10. MUSIC: My Gold Mask: Leave Me Midnight
This lauded Chicago-based duo includes Jack Armondo and bisexual Gretta Rochelle. With apt comparisons to Siouxsie and the Banshees, the Yeah Yeah Yeahs, and Joy Division, My Gold Mask makes pleasing and "ominous rock n' roll," according to the music mag Magnet. Their new release is the 10-track Leave Me Midnight, out Tuesday. Watch them cover a classic below.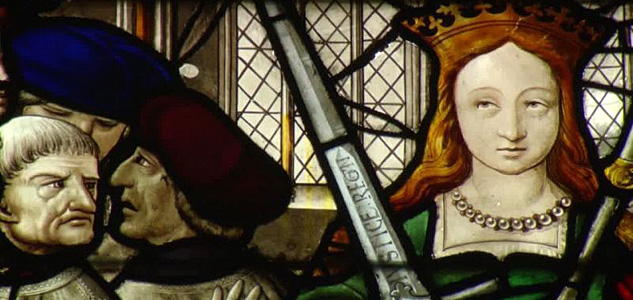 9. DVD: She-Wolves: England's Early Queens
No, not those queens. Still, the seven powerful, intense, and often-unencumbered-by-men leaders who are the former English queens in this BBC documentary make for captivating viewing. Hosted and based on the book by Cambridge historian Dr. Helen Castor, this series explores the lives of queens who challenged male rule, the fierce and fiery reactions they provoked, and whether, in fact, much has changed. (Watch the video)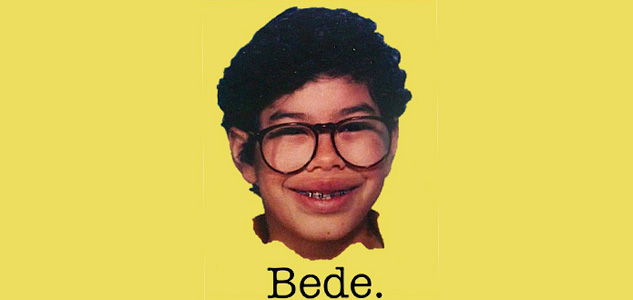 8. EVENT: Bede, New York
When Chicagoan Brianna Baker was a child, she was "Bede" a gender neutral kid that marched to the beat of her own Talkboy. In her one-woman show, Bede, Baker paints a comedic picture of life as a biracial non-conforming kid living in small town Illinois, of her family, and of grappling with her own gender expression and self-identity. The PIT Mainstage in New York City, Feb. 19 and Feb. 26, 7 p.m., $10.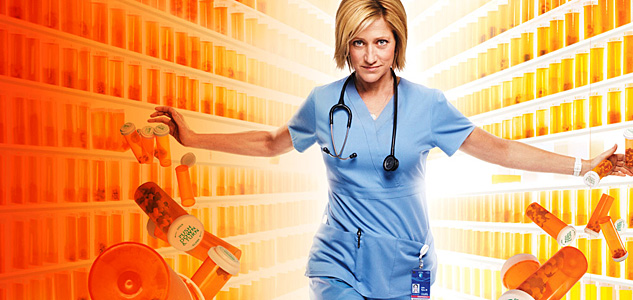 7. DVD: Nurse Jackie Season 4
Edie Falco is back as Jackie Peyton, the strong-willed, brilliant, and screwed up pill popping ER nurse. There's the usual workplace chaos and the reality that getting sober is a bitch. But this season let Jackie's equally brilliant bisexual BFF, Dr. Eleanor O'Hara, shine as a mom-to-be. The scene when she goes into labor is a reminder of the intimacy between Jackie and Eleanor that verges on the lesbian. Almost. If you squint. Which we do. (Oh and for the gay guys, just buy it to watch Peter Facinelli for 13 hours. Enough said.) Buy it. Watch the video.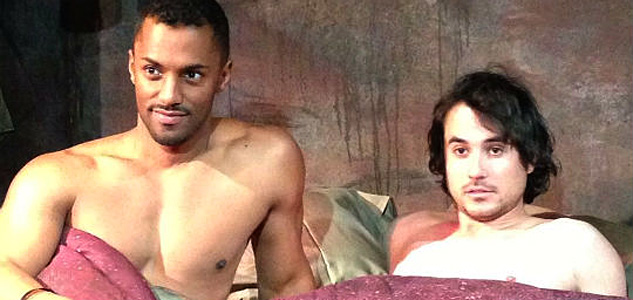 6. THEATER: A Family Thing
Three estranged brothers — a gay screenwriter, an addict, and an ex-con — meet to settle unfinished business in this world premiere play by Peabody Award–winner Gary Lennon (The Shield, Justified). It's a drama leavened with mordant humor, starring Sean Wing as the writer, Saverio Guerra as the addict, and Johnny Messner as the ex-con. The cast also includes out actor Darryl Stephens of Noah's Arc fame. The Echo Theater Company production has a preview tonight and officially opens Saturday at Stage 52 in Los Angeles, where it runs through March 17.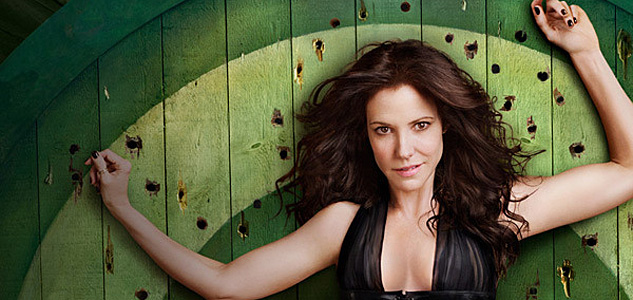 5. DVD: Weeds Season 8: The Final Season
The groundbreaking Showtime comedy-drama about a drug-dealing mother (Mary-Louise Parker) wrapped up its final season last year, with season 8 of the hugely LGBT-popular series finally out on DVD. Last time we saw Nancy, there was a sniper taking aim at her and a gunshot heard before cutting to black, leaving fans dying to watch the next episode. Now we can find out the shooters' identity, discover new friends and enemies and what's in the future for the Botwins. Will Nancy quit the pot dealing business? Will we be able to go on without weekly doses of Parker (who's headlined several LGBT films including Fried Green Tomatoes, Boys on the Side, Longtime Companion). We'll see, but this finale of Weeds is fun, exciting, sexy and most of all high-larious!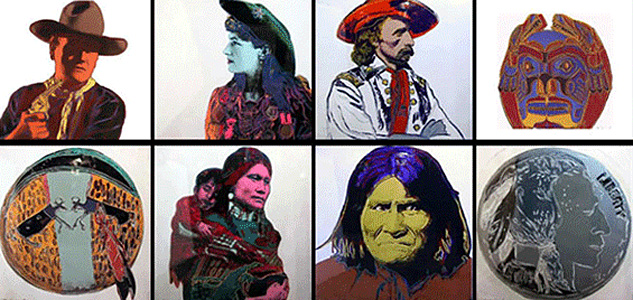 4. EVENT: "Warhol Out West," Las Vegas
Iconic visual artist Andy Warhol's collection is heading west to Las Vegas. The Bellagio hotel is partnering with the Andy Warhol Museum in Pittsburgh to display 56 of the artist's paintings, sculptures, photos, screen prints, and wall paper. Exhibits include Warhol's 1960s Pop paintings of celebrities and consumer products; the 1980s advertisement series; the beloved "Double Elvis" painting; and his rarely seen "Cowboys and Indians" series. The Bellagio Gallery of Fine Art, through Oct. 27, $11-$16. For tickets and more information visit bellagio.com.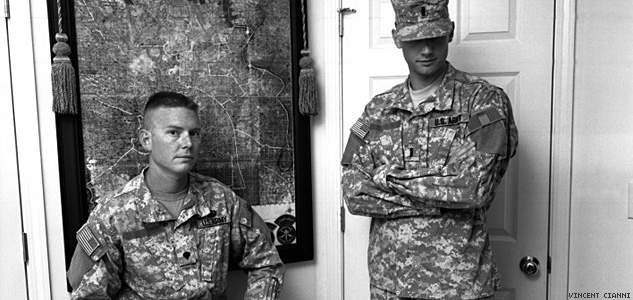 3. ART: "Gays in the Military: How America Thanked Me"
In photographs and interviews, Vincent Cianni has documented lives of service members affected by homophobia, both under "don't ask, don't tell" and the stricter ban that preceded it. The exhibit, which first appeared in New York in 2011, is now up at Imperfect Gallery in Philadelphia, where it continues through March 2. The participants' photos and stories will appear in a book of the same name, due out next year.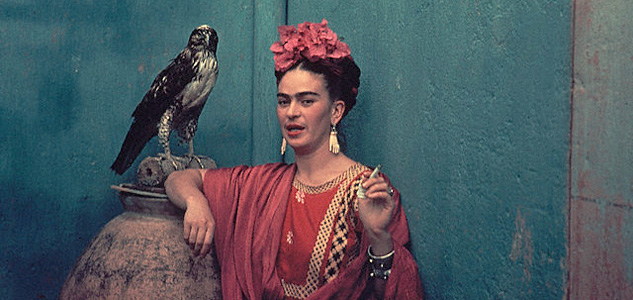 2. ART: "Frida & Diego: Passion, Politics, and Painting"
This exhibit showcases both the art and activism of two of the 20th century's most iconic painters, the bisexual Frida Kahlo and her husband, Diego Rivera, with works that showcase their pride in their native Mexico, their commitment to social justice, and their role in historic events. More than 75 pieces are in the show, which was first mounted last fall in Canada and is now at the High Museum of Art in Atlanta, the only U.S. venue where it will appear. It opened this week and will be on view through May 12.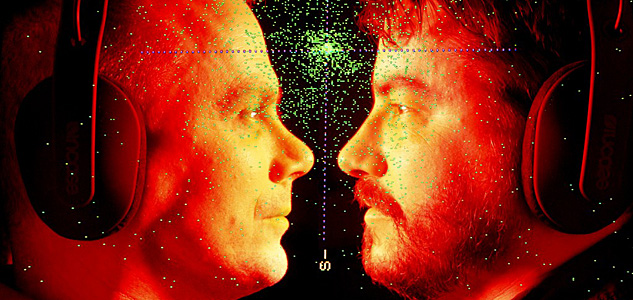 1. MUSIC: Matmos: The Marriage of True Minds
The wonderfully weird Matmos, a gay duo who makes rhythmic pop out of non-conventional instruments (like sex shackles), release their latest, The Marriage of True Minds, on February 22. Matmos's first full-length album in five years, The Marriage of True Minds was inspired and made through brain waves. Advocate editor Sunnivie Brydum explains the high-concept in her recent profile on the musicians. Read the piece here and listen to one of Marriage's songs below.