Hard Rock Hotel: Wedding Destination?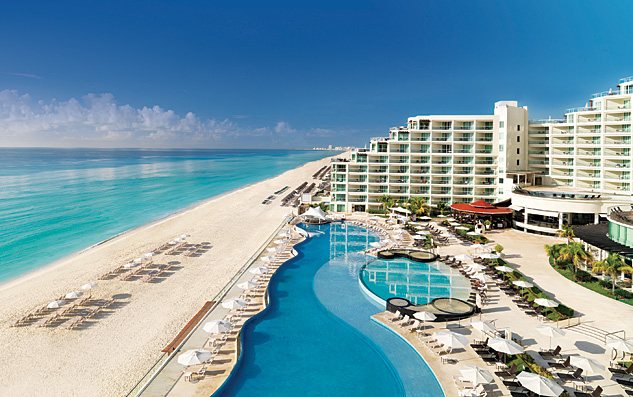 When it comes to dream destinations for lavish weddings, tropical locales like Hawaii and the Caribbean are likely to top the list. But for those couples who want an elaborate special day befitting the biggest celebrity, the 16 Hard Rock Hotels around the world are ready to treat you and your partner like the rock stars you are.

As it turns out, "Love All, Serve All" has become more than just a slogan at the 174 worldwide locations for the Hard Rock family of cafés, hotels, performance venues, and casinos (HardRockHotels.com/wedding). It's a way of life and a central business tenet for the legendary chain, which, says Hard Rock spokeswoman Linda Villafane, now hosts same-sex weddings and commitment ceremonies in all of its locations around the world, including the brand-new Hard Rock Hotels in Cancún and Puerto Vallarta, Mexico.

And since the Mexican Supreme Court last December struck down a same-sex marriage ban in the southern state of Oaxaca, marriage equality is well on its way south of the border.

That means you and your sweetheart have no reason not to celebrate your commitment at one of three Mexican Hard Rock locations, including Cancún, the new all-inclusive Hard Rock Hotel in Riviera Maya, and the gorgeous, funky Hard Rock Hotel Vallarta, where guest rooms include double Jacuzzis and four-star cuisine is available with 24-hour room service — all set against the sugar-white sand and crystal-clear blue of the Pacific Ocean.

Offering destination weddings at properties in Bali, Singapore, Las Vegas, Chicago and more, Hard Rock has proved it knows how to host an event to remember.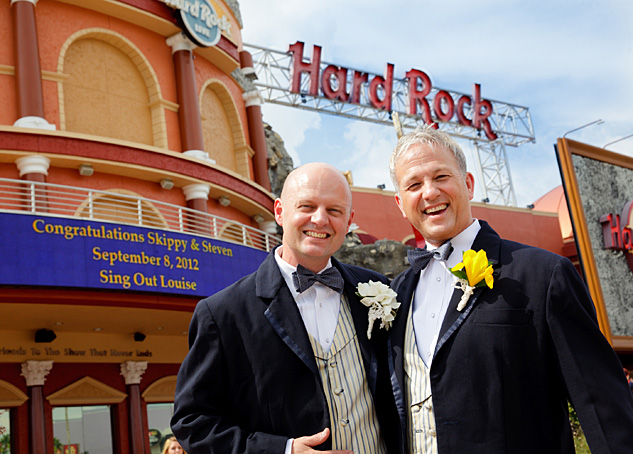 Gay couples eager to find inspiration for their special day may want to take a cue from Stephen Williamson and Skippy Jacob (pictured above), who hosted an elaborate Broadway-themed wedding at the Hard Rock Live in Orlando, Fla., last September. Die-hard fans of musical theater, the entire event was decked in show tunes. The grooms exited the church to the sounds of "Perfect Day" from Legally Blonde after exchanging rings delivered by their beloved dog, a three-legged Chinese crested powder puff.

The grooms made a grand entrance at the reception, flanked by 25 singing, dancing performers and guests in a choreographed rendition of "It's Your Wedding Day" from stage musical The Wedding Singer. The newlyweds wrapped the celebration with a live performance of several songs from Hairspray, performed by the best man and a close friend, in full drag as Edna and Tracy Turnblad.

Although the couple can't legally marry in Florida, they are optimistic that marriage equality nationwide is inevitable.
"Our union was never a legal matter, but rather a spiritual one," says Williamson. "I was not going to let society take away one of my dreams and tell me when I could marry the man I love. With 168 friends, family, and three pastors to guide us, it was an example of nothing but pure love in one another."