From Glenn Burke to Brittney Griner: The State of Pride in Sports
The year is 1976, and you were just signed to one of the most storied teams in baseball, the Los Angeles Dodgers under the larger-than-life Tommy Lasorda. You were out in the minor leagues, and now that you're in the majors, you wear a red jockstrap and dance around the clubhouse. You ignore advances from women and openly head out at night to find the hottest gay club in whatever town you're in. Your teammates don't really care about who you bed at night, but management does — and offers you $75,000 simply to get married.
"You mean, to a woman?" you quip. Sure, you become the heart and soul of the team, and you're later credited with co-inventing the high-five with Dusty Baker. But it doesn't matter. You don't last with the Dodgers.
Instead, you get traded to the Oakland A's where your manager openly refers to you as a faggot. Then it goes downhill. Your teammates mostly hate you. You get sent to a minor league team in Utah. A debilitating car accident forces you to retire. You're proud that you got to play in the World Series as an out gay man, but that doesn't stop you from falling into a deep depression or developing a cocaine addiction or becoming homeless. It doesn't stop you from eventually dying poor and isolated at age 43.
You are center fielder Glenn Burke.
Fast-forward four decades. You're an intelligent utility player, and your teammates love you. And after living your life as a straight man for years, you realize it's time to come out as a gay professional athlete. And when you do, you land the cover of Sports Illustrated, and the president of the United States congratulates you, and so do your former teammates. Yes, there's blowback from some who just don't get it, but you become an icon for the thousands of LGBT children and adults across the country who are already out and proud, or trying to figure out how to join team LGBT.
You are NBA free agent Jason Collins.
Without players like Burke or NFL player Dave Kopay or tennis champions Billie Jean King and Martina Navratilova, who knows if Collins would have had the strength to come out after keeping his secret for 33 years and 12 NBA seasons, or if Brittney Griner could be drafted into the WNBA and speak openly about being a lesbian? What about younger athletes like Amherst College's Avery Stone or Canadian high schooler Cory Oskam, who hit the ice with pride every time they play hockey?

These young players and dozens of other athletes, coaches, administrators, consultants, and media met in Portland, Ore., in June to work with Nike toward a lofty goal — ending anti-LGBT bias in sports by 2016. This idealism isn't only for the professionals or student-athletes, but even for the kids in Little League or adults in recreational Ultimate Frisbee.

So even with the Brooklyn Nets interested in signing Collins, Robbie Rogers playing for the Los Angeles Galaxy, Griner breaking records in the WNBA, and Sharnee Zoll-Norman of the Chicago Sky talking openly about her wife, there is still massive work to be done. There are no active openly gay players in the NFL, NHL, or MLB. Major players in sports media tend not to treat female athletes' comings-out as a big deal, thanks to old notions on how we value women's work, female athletes, and concepts of femininity. Some college teams have rules barring students from being out, while recruiters use wholesome images of safe, heterosexual teams to assuage the fears of prospects' parents. And then there's the fans who gather in stadiums, 45,000-strong, and shout homophobic slurs to the players on the field and each other.

The Invisible Athletes
While Griner was able to excel at the religiously affiliated Baylor University as a star basketball player, she was still stifled from speaking openly about her sexual orientation. Yet until she was drafted into the pro leagues, she became the highest-profile LGBT college athlete. Like Griner, about 5% of college athletes identify as lesbian, gay or bisexual, according to Campus Pride. Seven total athletes, out of the 8,018 NCAA athletes surveyed, are transgender.
Similarly, there's only one out lesbian coaching NCAA Division I basketball — Sherri Murrell of Portland State University — and a smattering of LGBT coaches on the college level who are out to their teams and fans alike. But in a country without employment protections for gay workers, it can't be easy to coach for some of the major private universities as openly LGBT.
(RELATED: Timeline of the Greatest Gay Moments in Sports)
A quarter of LGBT student athletes say they have felt pressured to be silent about their sexual orientation among teammates. Nearly the same amount of students say they have been bullied online for their sexual orientation or gender identity.
Still, many athletic departments in high schools and colleges are scrambling to find ways to welcome LGBT athletes into the fold. Outside organizations like GO! Athletes have been there to help athletic departments understand gay players.
Members of GO! Athletes, a coalition of LGBT athletes and allies, flooded Nike's summit. They largely represent the NCAA's several hundred LGBT athletes who want to break the silence of sexual minorities in locker rooms — or at least get through a practice without being hassled. In five years, GO! Athletes has built a network of student athletes at colleges across the country, acting as a sort of de facto LGBTQIA resource group.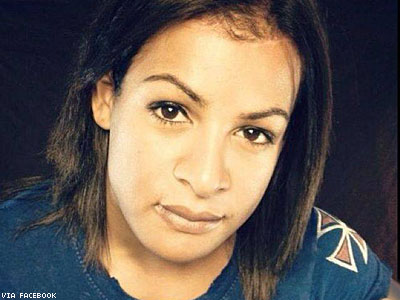 At left: Fallon Fox
The Vocal Allies
The coming-out process may be easier than it was in Glenn Burke's time, because of allies who realize how integral acceptance is toward building a better team. According to Nike, the growing coalition of athletes who have pledged to help with their big goal is made up mostly of allies — about 400, with 100 LGBT athletes.
Fallon Fox, a transgender MMA fighter, was recently forced to come out after a reporter heard a rumor. She said she was buoyed by LGBT people, and allies who reached out to offer their support.
"Non-LGBT people have the ability to be our friends, give us support, and empathize with us," she said.
Collins said his coming-out process was also softened by former teammates who he either notified before issuing his big announcement or called him with congratulations when they heard the news.
"Because I had been a good teammate through the majority of my career, I knew my teammates would support me," he said.
Patrick Burke seems to have been born to be an ally. Burke — no relation to Glenn — comes from a serious hockey family (his father, Brian Burke, has been an NHL general manager for years). And his family happened to have a gay member, Brendan, a student who was also the hockey operations assistant for Miami University's men's hockey team. Brendan died in a car accident in 2010, months after coming out publicly, but his family, especially his brother Patrick, has carried on his legacy with the You Can Play Project, which encourages gay athletes to play sports and their teammates to become allies.
Now major sports universities like Duke, Ohio State, and the University of California, Los Angeles, have joined You Can Play, pledging better environments for all athletes. Interestingly, the National Hockey League and Major League Soccer, Robbie Rogers's league, are the only American professional partners for You Can Play so far.
More and more allies are finding ways to show their support by letting their teammates know that they would welcome them on the field and in the locker room. Coaches are learning how to make sure their office is a safe space for athletes of all types to speak openly about their experience. And media people are learning how to properly and respectfully report on LGBT athletes, while organizations are popping up to help LGBT athletes and allies improve the field of athleticism.

The Next Frontier: Transgender Athletes
As sexual minorities are slowly being welcomed into the sports in which they already compete, it seems as though sports regulators are still figuring out how to work with transgender and intersex athletes. California became the first state to legally guarantee access to transgender high school athletes, and about a dozen others have a range of policies to support transgender athletes in some form. But the rest of the states, and many international governing bodies of sport, are still grappling with this issue.
Clearly this was the case with Caster Semenya, the South African runner, who turned out to be intersex. It was only discovered that Semenya is intersex after she turned in a stunning performance at the track and field world championships in 2009. The question became, Does her gender status give her an unfair advantage? The International Association of Athletics Federations ruled, after a nearly year-long investigation, that being intersex doesn't give her an unfair advantage. She was cleared to run, and won the silver medal at the 2012 London Olympics in the 800-meter run.
(RELATED: Meet 55 Inspiring LGBT Figures in Sports)
Then there's Fallon Fox, the MMA fighter, who had been known only as a female fighter until forced out of the closet earlier this year. She's become a role model for younger transgender athletes rising through the ranks, but her validity in the league was on the line simply because she was outed. The Association of Boxing Commissions eventually decided that Fox would continue to be classified as a female fighter. And while she beat Allana Jones in the third round of her first fight, Jones entered the ring to the Aerosmith song "Dude Looks Like a Lady," and spectators booed Fox's entrance.
Some proactive figures in sports are trying to help major governing bodies like the NCAA determine how to help transgender athletes. National Center for Lesbian Rights sports project director Helen Carroll and Pat Griffin, former director of It Takes a Team!, compiled a report in October 2010 to provide a comprehensive guide to integrating transgender student athletes. Mainly, the NCAA adapted a policy to allow transgender male students to compete on men's teams as long as they have undergone testosterone hormone therapy. Female transgender athletes who have taken medication to suppress testosterone for a year can compete on a women's team.
This is a start, and because of these policy changes, George Washington University basketball player Kye Allums was able to graduate as a pioneer. Allums came out as transgender during his junior year, and may have been the first openly transgender student to play on an NCAA Division I basketball team. Now a beaming, dynamic Allums has so much in front of him — training and speaking at colleges, mentoring other transgender athletes, and a master's degree at New York University. But at the time of his coming out, right as he was about to step on the court for the first time as an openly transgender male athlete, he simply said his university's acceptance "means a lot."
For Glenn Burke, that kind of acceptace would have made a world of difference. For the countless LGBT athletes that follow him, it already has.
CORRECTION: An earlier version of this story cited MLS as the only professional American league involved with You Can Play. The NHL annoucned their partnership with You Can Play in April.