Celebs, Administration, and Family Shine at National Educator Conference
Friday, February 15 marked the impressive opening reception for the fourth annual Supporting Students, Saving Lives National Educator Conference focused on LGBT, questioning, interest, and allied youth, hosted by San Diego State University's Center for Excellence in School Counseling and Leadership.
With more than 600 educators, counselors, and administrators representing 44 states gathered in the ballroom of San Diego's DoubleTree Hotel, the conference kicked off with a lively opening plenary, where CESCaL handed out awards to celebrities and elected officials for their outstanding advocacy, and concluded with a performance from the only out contestant on last season of The Voice, De'Borah Gardner. Keep reading for exclusive video of De'Borah's original song, "Ambition."
Fort Worth, Texas, city council member Joel Burns, whose heartfelt testimony before the city council about bullied LGBT youth went viral in 2010, accepted the award for Excellence in Political Heroism.
Burns was was followed by out MSNBC anchor Thomas Roberts, who accepted the award for Excellence in Media and Journalism. The Advocate caught up with Roberts to get the anchor's take on the increasing media coverage surrounding issues of bullying and LGBT youth suicide.
"The fact that we have to cover these stories is very unfortunate," Roberts said. "Is it important to cover these stories? Yes. When we think about the fact that all of us as adults are just grown-up kids, we have a lot of big issues that are facing us… But of course, that's got to trickle down to our youth. And so while all of the adults are trying to figure out how to play in this country together, and what equality really means, we're forgetting that we have our futures in our children that are watching all of this discourse go on."
The evening's keynote speaker was Michael Yudin, the acting assistant secretary of special education and rehabilitative services for the federal Department of Education. Yudin issued an impassioned address highlighting the urgent need for safer schools to help slow the staggering drop-out rate, which he cited at approximately 7,000 students leaving school each day. As an out gay father, Yudin also spoke nobly of President Obama and the entire administration's commitment to including LGBT Americans in its efforts to move the nation forward, including government-sponsored resource sites StopBullying.gov and FindYouthInfo.gov.
"If there's anything we can do as a partner to educators, we want to be there," Yudin told The Advocate. "One of the reasons I'm here is to show our support. We are here to support your efforts to make kids safe and thrive. Because we know that kids have to be safe in order to thrive."
The opening reception had a healthy dose of humor, too, initiated by PFLAG mom Betty DeGeneres, who accepted the award for Excellence in Advocacy for Safe, Welcoming and Inclusive Schools. DeGeneres commended the educators in the room, noting that they demonstrate admirable self-restraint when mediating conflicts, saying she would have "wanted to call the bullies the little jackasses that they are." The room erupted in laughter and applause.
The night's final honoree was out actor and king of the internet meme, George Takei, who accepted the award for Excellence in Advocacy for LGBTQIA Youth for his outspoken opposition to antigay legislation like Tennesee's so-called Don't Say Gay Bill. In response to the proposed law that would criminalize any mention of homosexuality in schools, Takei launched his "It's OK to be Takei" campaign, encouraging LGBT youth to simply substitute the word "gay" with his well-known last name.
"I come from a generation when we did not have the kind of program and the kind of counselors and the kind of social climate that we have today," Takei told The Advocate. "And I am green with envy, and deeply appreciative to the work that CESCaL is doing… We're going to have proud, confident, young people who — whatever their background, whatever their orientation — they'll be confident of their place in society and developing fully their talents and contributing to our society."
De'Borah closed the opening ceremonies with two original songs, "IDK" and "Ambition," both of which called on fellow LGBT youth who might be experiencing isolation, familial rejection, and bullying, to persevere and accomplish their dreams.
Watch "Ambition" below, and click through to the next page for more details on the conference.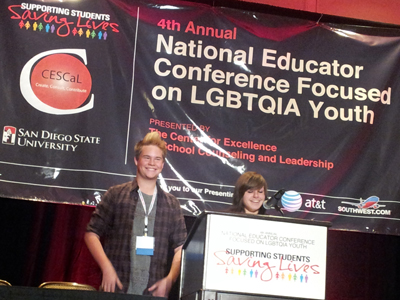 The three-day conference featured numerous break-out sessions designed to empower educators with the legal, social, and educational knowledge they need to support their LGBTQ students. Sessions were facilitated by experts in trans inclusion, several upper-level Administration officials, representatives from the ACLU, Matthew Shepard Project, the Transgender Law Center, Faith in America, GLSEN, and the Southern Poverty Law Center, among others.
The conference's closing plenary on Sunday was the most emotional gathering of the weekend, featuring speeches from bullied LGBT teen Johan Mowry (pictured, above left, with Alyssa Rodemeyer), whose wordless YouTube video, "What's Goin On," describing the bullying he's been subjected to, has more than 10 million views. Stepping on stage to a standing ovation, Mowry told attendees that he has made it to high school, where he has found a support network of friends, family, and faculty.
Mowry was followed by Alyssa Rodemeyer, a bisexual high schooler whose 14-year-old brother Jamey was gay and committed suicide in 2011 after filming an It Gets Better video, yet continuing to be relentlessly bullied by schoolmates. Rodemeyer opened her touching, eloquent speech by telling attendees that she "left a beautiful girl at home to be here, so you know this is important." Rodemeyer drove home a message of inclusion, urging that she and her fellow LGBTQ youth are not different from their straight peers. Rather, Rodemeyer challenged her friends, and everyone in the room, to join her fight to "spread the knowledge that will break the ignorance of generations."
After a well-earned standing ovation, Rodemeyer's parents took the stage, to talk about their late son. As Tim and Tracy Rodemeyer alternated speaking at the podium, a montage of digital images Jamey produced scrolled across screens flanking the stage. By the end of the Rodemeyers' turn on stage, there was not a dry eye in the house, including those of project director and conference chair Vincent Pompei, who took the stage noting that he was unashamed of his puffy eyes since he knew nearly all attendees were in the same emotional place.
Pompei and the entire CESCaL team hosted a wildly successful, entertaining conference that was chock-full of relevant information for educators, and appropriately peppered with entertainment endeavors like Saturday night's "Urban Plunge" into San Diego's gayborhood, known as Hillcrest, and Friday's hugely popular photo shoot for the NOH8 Campaign.
For more information about CESCaL or the Supporting Students, Saving Lives Conference, click here. Presenting sponsors included AT&T and Southwest Airlines.