Artist Spotlight: Tarzan in New York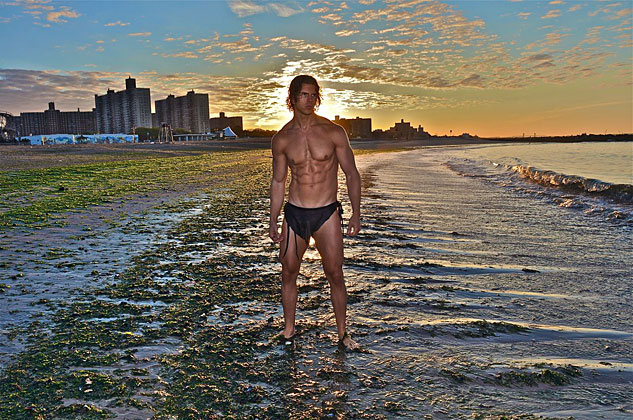 Richard Rothstein spent the first 40 years of his life "deeply buried in the closet and very much repressed." Part of his coming-out process was to pick up a camera in 2009 and begin to make real some of his boyhood fantasies. Rothstein tells us, "I'm now 65 and finding my joy and myself in my photography."

The Advocate: What was your thought process, or inspiration, to photograph your childhood fantasies in Manhattan?
Richard Rothstein: Manhattan is an integral part of who I am, it's part of my DNA. I was born on 17th Street and Second Avenue and have spent my entire life in the city. I became aware of my "difference" by the age of 5. I can remember being punished by my father all too frequently from that point on for being a sissy. The streets of the city, school, theater, parks constantly brought me face-to-face with feelings I knew I had to suppress. And I did. Finally, at the age of 40, the struggle and the suffering became too much to bear and I attempted suicide, obviously unsuccessfully. But once I had reached that point, with nothing to left to lose, I thought that, well, I could do "it" just once, and I did. But that's a long story for another day.
Little by little I reclaimed my city and rebuilt myself. Along the way I discovered that through photography I could profoundly express and uncover myself as a proud and assertive gay man. For me, photographing beautiful men in the streets of the city spoke to my lost years and helped me take ownership of my fear and inhibitions. Some years ago, I was afraid of Christopher Street and would avoid it like the proverbial plague. Today I photograph naked men on Christopher Street. Every time I hit the streets with a model, I push the envelope, photographing nudes in all the "wrong" places. It is liberating, fulfilling, and an amazingly satisfying way to thumb my nose at everything that had worked against me for so many decades. I met "Tarzan," Rob Eco, about two years ago, and we immediately bonded and formed an incredible bromance. Rob very much became my muse. I teased him for a long time about how much he looked like a Disney Tarzan. It was s crazy idea, but it struck me that the ultimate political protest for me would be to take my childhood fantasies and bring them to life in the streets of my city. My suppressed and hidden sexual fantasies aggressively brought to life in my city. Tarzan, Superman, Peter Pan, Zeus, Hercules … it's a long list.
Some shots look fairly risky (the subway photos, the construction workers, etc.) Can you tell us anything about the experiences of taking these images?
Rob and I don't feel we've done a successful Tarzan shoot unless we've been insulted, yelled at, threatened with arrest, or chased at least once. Our scariest moment was coming off the B train by the Museum of Natural History. We had been shooting in the train between Lincoln Center and the American Museum of Natural History and a couple of subway workers had called in an "EDP" report — "emotionally disturbed person" loose on the subway system. At the 86th Street Station, we were approached by a cop and threatened with arrest. We had to convince him that Rob was a model and not a danger to society. Fortunately, the officer finally relented and agreed to let us go on the condition that Rob put his pants back on. The cop didn't feel that a leather loincloth was "decent." I've become well versed in the city's nudity laws and pointed out to the officer that all critical body parts were covered. Next time we used the Q train. We've also been chased out of the Rockefeller Center gardens by security guards. Rob made that worse by calling the security guard "Bart the Mall Cop," daring him to pull out his toy handcuffs. I don't run well at my age, but we did. To be honest, Rob is so believable as Tarzan that 90 percent of the time people want their picture taken with him. Women and men want to jump in his arms and play "Jane." The construction workers started laughing and comparing muscles to Tarzan. When we go into businesses, people generally behave as if we're just one of the customers. There are advantages to shooting in New York. People take pride in pretending not to notice or care. And pushing that gives both of us a tremendous amount of pleasure.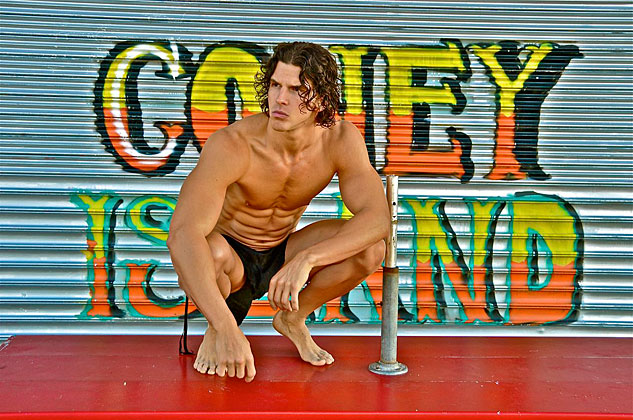 Tell us about your Tarzan model: How did you find him? Was he on board with the concept? Was there anything you both backed away from as too risky or dangerous?
Rob Eco is a professional model, trainer, and competitive bodybuilder. We met through an agent about two years ago but quickly became very close friends. I've worked with plenty of models that "aroused" me, but Rob was the first and so far only model to truly inspire me. Rob has some remarkable gifts, beauty aside. He is the most nonjudgmental man I've ever had as a close friend, completely accepting of anyone and everything as long as no one is getting hurt. He's also completely uninhibited and gives me the strength to try anything and everything artistically. I wouldn't normally mention Rob's sexual orientation, but it is relevant to your question. Rob is straight. And our friendship and interaction, our conversations about sex and men and women are completely without boundaries and judgment, which for me is incredibly empowering artistically. Most importantly, when I'm with Rob, I find myself not judging myself, and that gives me a new degree of artistic freedom. We haven't and won't back away from anything that might seem "too risky or dangerous." And that includes shooting Tarzan in 5 degrees in a snow-covered Central Park or climbing up the front of the Metropolitan Museum of Art. As far as being "on board" with the concept, we both considered that doing Tarzan would be challenging. We were worried about it being silly. We knew we had to jump into it fully committed — and that included a custom-made leather loincloth. It also included walking barefoot in places that would horrify any mother, and always staying in character. When we venture into the city, it's not Rob, it is Tarzan versus New York City. Rob also gets the city and its dynamic, its energy, born and raised in the Bronx.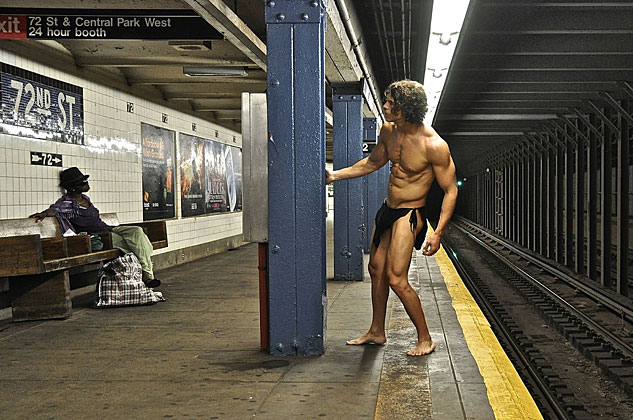 What are you planning on next as far as a new series?
Our next series, come spring, will be a chief of the Manhattan tribe, in authentic costume exploring all that has changed on this island since his people stupidly sold it to the Dutch in 1626. When I was a young boy playing cowboys and Indians, I was always the cowboy, captured and bound by the naked Indian brave.