Artist Spotlight: Magnus Enckell

Golden Age, 1904

Magnus Knut Enckell (November 9, 1870–November 27, 1925) was born in Hamina, a small town in eastern Finland, the youngest of six sons.

In 1889, at the age of 19, he began his artistic studies and was the first Finnish artist to break with naturalism, which was the established style during his education in Helsinki.

In 1891 he studied in Paris ase a student of Jules-Joseph Lefebvre and Jean-Joseph Benjamin-Constant at the Académie Julian. There he was drawn to the symbolist movement and was influenced by the painter Pierre Puvis de Chavannes as well as symbolist literature.

Enckell was assumed to be gay, and his erotic portraits were quite uninhibited for their time. Routledge's Who's Who in Gay and Lesbian History puts it, "His love affairs with men have not been denied ... Enckell's naked men and boys are openly erotic and sensual."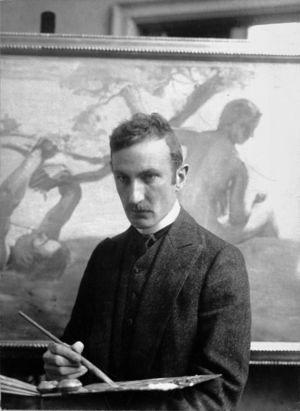 In 1894 and 1895, Enckell traveled to Milan, Florence, Ravenna, Siena, and Venice. The years in Italy gave his work a greater range of colors and a wider range of technique. In the first years of the 20th century, under the influence of post- impressionism, he developed a brighter, more colorful palette. An example of this is the series The Bathers, in dark, lively colors. Together with Verner Thomé and Ellen Thesleff, Enckell founded the group Septem, in which artists who shared his beliefs came together.

In 1907 Enckell executed the commission for the altarpiece of Tampere Cathedral. The fresco, more than 32 feet wide and 13 feet high, shows, in subdued colors, the resurrection of people of all races. In the middle of the painting two men walk hand in hand.

From 1901 onward Enckell spent many summers on Suursaari Island, where he painted his Boys on the Shore (1910). He organized exhibitions of Finnish art in Berlin (1903) and Paris (1908), and of French and Belgian art in Helsinki (1904). He chaired the Finnish Arts Association from 1915 to 1918, and was elected a member of the Fine Art Academy of Finland in 1922.

Enckell died in Stockholm in 1925. His funeral was a national event. He was buried in his native village in Finland. [Source: Wikipedia]

Icarus, 1923

Man With a Swan, 1918

Orpheus

Portrait of Alfred William Finch, 1915

Bakkantti, 1897

Boy With Skull, 1893

Gethsemane

Gold Season, 1904

Narcissus, 1896

Pont Royal Pariisi, 1911

Reclining Boy, 1892

The Awakening, 1894

The Dying Adonis, 1915

The Faun, 1914

The Altar Piece at Tempere Cathedral

Long View of the Altarpiece at Tempere Cathedral