7 Questions For The Following's Homicidal Hottie
One of this season's breakout hits is Fox's The Following, a show about a long-suffering and disabled detective who is daunted by the rabid and homicidal cult followers of the Edgar Allen Poe-obsessed Joe Carroll, a serial killer who he put behind bars years ago. While Kevin Bacon shines as the detective and James Purefoy is deliciously creepy as Carroll (the two share what some academics will call subtextually homoerotic tension in nearly every scene), the breakout storyline belongs to Paul (Adan Canto) and Jacob (Nico Tortorella), two handsome men who feigned a gay relationship undercover for so long that it became real. Of course Emma, Jacob's pre-Paul girlfriend, complicates matters when they reunite.
The trio of killers have faced stark choices and made shocking decisions so far this season (somehow their homicidal tendencies were less shocking to viewers than a scene in which the threesome had shower sex), and yet there's a modern, nuanced humanity to the men. While Jacob struggles with his internalized homophobia, Paul is fine with his bisexuality (though he doesn't label himself).
Canto, who comes from the small town of Acuña, Mexico (just across the border from Del Rio, Texas), made his film debut in Like Water for Chocolate, then spent his teen years as a musician. In 2009, he had his acting break in the Mexican thriller, Sin Memoria. Numerous film roles followed and he became a series regular on Estado De Gracia and other Mexican TV series. The Following marks his U.S. debut, and if the show's, ahem, cult following is any indication, he has a long career in Hollywood ahead. Canto talks with The Advocate about playing Paul, identity labels, and sexuality on Mexican television.
The Advocate: We've long seen depictions of gay men living as straight men, but in Jacob and Paul's case, we're led to believe it's the reverse, which is a refreshing change up. Do you think of Paul as gay, bisexual, or straight?
Adan Canto: I think Paul wouldn't lose a second of his day defining that. If there's something he hates, it'd be labels. Paul just accepts love regardless of the sex.
Did Paul and Jacob fall in love during those two years of being undercover?
They possibly did. Put two vulnerable empathetic human beings under the same roof for three years, supporting and caring for each other, then I'm sure feelings would start to arise.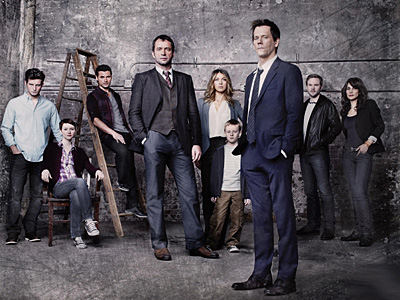 At left: The cast of The Following.
Paul is very jealous of Jacob's relationship with his girlfriend. What part of Paul can you identify with?
His passion.
What's been the strangest part of doing The Following?
It's been strange how I've become desensitized or light-hearted while conversing about death and violence at work — you know, just talking about the best ways to depict a scene. I'd imagine it must be an awkward scene to eavesdrop on.
You made your film debut as a 9-year-old in Like Water for Chocolate. That sounds pretty amazing. Did you know then you'd be an actor?
I actually didn't think objectively about it until five years ago. Then I guess it was all kind of an unfolding chain of events.
A lot of your film work is in Mexico. Did you always hope to move to L.A. and break into American film and TV or did it just happen?
I didn't always hope for that. I focused mainly on what my ideas were in regards to the world and expressions of those ideas. One thing led to the next. Now here we are.
What's the biggest difference between how sexuality is portrayed on Mexican TV versus American TV shows?
The culture basically. We're human beings at the end of the day, and the only things that change are languages, moral statutes, and settings.